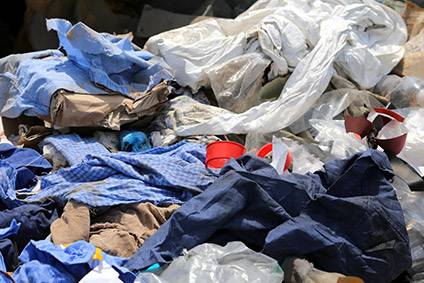 A UK government-funded textiles hub that explores methods to turn post-consumer textiles into renewable feedstocks and develop new supply chains is set to launch today (24 May).
A Royal College of Art-led consortium was awarded GBP5.4m (US$7.1m) by the government to establish the Textiles Circularity Centre (TCC) in November last year.
The four-year award is one of five circular economy centres funded by the UK Research and Innovation (UKRI) Interdisciplinary Circular Economy Centres Programme, which explores how reusing waste materials in textiles, construction and other industries could deliver huge environmental benefits and boost the UK economy.
The centre aims to turn post-consumer textiles, crop residues and household waste into renewable materials for use in textiles to catalyse growth in UK manufacturing and the creative industries. It also aims to develop new supply chains, textile production, design and consumer experiences, while reducing the UK's reliance on imported and environmentally and ethically impactful materials.
UKFT's CEO Adam Mansell is participating in the launch event for the Textiles Circularity Centre and sits on the advisory board. He said: "There is a real opportunity for the UK fashion and textile industry to become a leader in circular supply chains and to harness the full benefits that UK manufacturing can offer."
The launch is part of the wider UKRI National Interdisciplinary Circular Economy Research (NICER) Programme, a four-day event running from 24-27 May that will introduce the five National Interdisciplinary Circular Economy Centres and the Circular Economy Hub.
The all-day event on 27 May is opened by Dame Ellen MacArthur before a series of interactive panel sessions and workshops, with speakers including Hayaatun Sillem, CEO Royal Academy of Engineering, and Laura Jarvinen, SITRA lead of the Circular Economy Roadmap for Finland. They will discuss their views on 'Designing a Prosperous, Resilient and Inclusive Circular Economy'.