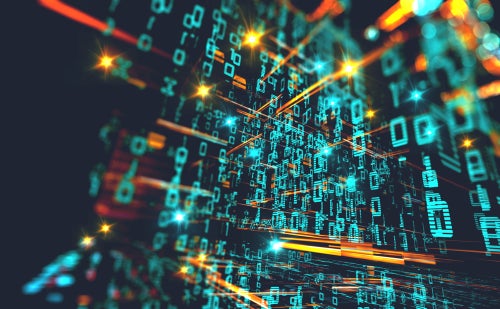 Consumers want to know where their products are coming from, how, where and by whom they were produced, and want to get a longer lifespan and recyclability from those items. Cyrus Gilbert-Rolfe, senior vice president for retail and apparel at Kezzler, looks at the challenge facing apparel with its growing data problem.
At the same time, regulators aim to enforce mandates that lead to waste reduction, the elimination of various harmful chemicals and more durable, recyclable apparel produced with respect for people and the planet.
For the most part, apparel brands are on board. With sustainability and ESG as watchwords across industries, fashion is ready for a makeover. Embracing circular business models is one brand response that satisfies the demands of the market, consumers and compliance. But how? It will all come down to having visibility into the entire apparel value chain. And this means being able to tackle a beast: to get value from making apparel traceable, and being able to implement the most important use cases, such as compliance reporting, dynamic consumer engagement and circular business models, you will have to manage massive data volumes that apparel traceability and circularity will generate.
The complexity of achieving apparel circularity
What happens when you produce a billion apparel items per year, and each one has 20 supply chain events, a distributor, a wholesaler, a retailer, and so on? The picture starts to become clear: a fashion brand in this situation is just three years away from managing more than a hundred billion data points, all of which have potentially critical strategic value.
If every single physical item is assigned a unique digital identity, managing the data collected throughout the journey adds complexity. It is possible to trace the vast number of garments produced on an annual basis, assigning unique digital IDs at an item level. But as each garment makes its way through its complete lifecycle, from manufacture, into the market and into the hands of consumers, it generates and collects an incredible number of data points or events, all coming from different systems. This can be both upstream (data from sourcing of raw materials needed for production) and downstream (from manufacturer to distribution to consumers) as well as at the retail point of sale, which has entirely different sets of events to track.
Over time, these systems can yield rich lifecycle data, but tapping into the insight is a major challenge, given the different nature of various types of lifecycle events and the fact that this data is being generated in different spaces and systems. Add to this equation the need for scale and speed, which is especially important for the largest producers, and you've got a need for a digital ID management events repository.
Getting past complexity to deal with billions
Best practices for traceability and transparency have in the past been driven by the pharmaceutical and food industries to achieve important safety and authenticity guarantees. These practices are transferable to the apparel industry, but making sense of the billions of data points that fashion generates is a different ballgame. Some key considerations in reducing the complexity and getting to insight (and circularity) include:
Uniqueness: Every single physical item becomes digital with its own digital identity, which will (at any point in the life cycle or end-of-life) tell its story – every detail or event within its life. This is happening now – and will continue to be disruptive.
Scaling identity: This new approach demands that digital IDs be generated and validated at scale. Flexibility and scalability are key for identities themselves to be able to cope with volume, the requirement for near-real-time validation, and the flexibility to handle near-infinite capacity demands in collecting, managing and customising different data sets for different data models and systems.
Integration: Managing billions of data points and taming them to transform business means that the traceability/events repository platform needs to be easily integrated into existing IT systems.
Why tackle billions of data points?
Circularity is the overarching goal, driven most visibly by sustainability-related regulations coming into force, which require that apparel and textiles introduce circularity to their complete lifecycle. This includes being able to answer questions about where materials came from, where the waste from their production final products goes, and what happens to the final products at each stage of their lives. And this demands traceability. The European Union's sustainable textile strategy, waste management frameworks, the digital product passport (DPP), and other regulatory pressures require apparel brands to start delivering insight into their value chains, but the data collected while building a framework for compliance reporting provides business value well beyond insulation from compliance-related scrutiny.
First and foremost, achieving circularity aligns with regulatory requirements. Gaining a full picture of provenance, authenticity, and so on, not only helps with compliance reporting but also begins to fulfill some consumer demands for understanding what their products contain. Circularity also means repurpose reuse, and recycle and traceability can enable these activities as well.
Beyond circularity, however, the billions of data points contain data that can provide unprecedented insight into the life of a garment. And these connections to an item help deliver key areas of measurable value, including:
Insight into factory operations
The apparel supply chain is fuelled by outsourced manufacturing. Understanding what's going on in the factory, it's possible to alleviate risk while still achieving the cost and operational wins outsourcing promises. With little to no influence on productivity, product digitisation lets a brand add in a step on the production line, assigning each garment a unique, cloud-based digital ID. This enables everything from easier purchase order reconciliation to visibility into risk.
Visibility into material and labour provenance
Where do raw materials come from? What are the working conditions in a factory? Answering these questions are no longer nice-to-have additions. They will soon become requirements with regulations such as the EU Digital Product Passport, and consumers alike, increasingly want to know where their products, and their component ingredients or parts, come from. Not only will this visibility, thanks to unique digital IDs, help with sustainability and ESG reporting and add value to consumers, it will contribute to easier compliance with shifting regulations.
Confirmation of authenticity
The opportunity for counterfeiting is greater than ever. Fashion fakes are estimated to be worth US$4.5 trillion, of which 70% are luxury brands. Assigning unique digital IDs to garments and including the data carrier in the garment itself (on a QR code or label) is an easy way to help consumers authenticate that their purchases are genuine.
Creating dynamic user experiences with first-party data
It's increasingly difficult to gain understanding of real consumer behaviour. With the death of third-party cookies for analytics, one avenue for consumer insight is zipping up. Yet with traceability data, which is first-party data, brands can unlock direct insight into consumer behaviour, i.e., what they actually do versus what they report doing. With product digitization, products themselves become their own digital channel that connects brands directly to consumers.
Scanning a code creates opportunities for context-based, dynamic and personalised experiences. And the scan can trigger a process that checks different consumer attributes (e.g., location, time of day, device, how etc.) that can help further tailor the experience. This can unlock new revenue opportunities (repurchases, refills, loyalty programs) and enhance conversion rates, create cost savings and efficiencies (potential for registration, return and warranty) as well as contribute to circularity (information on recycling and repair).
The future demands taming the billions
Brands working at the scale and speed of fast fashion aim to be responsive to consumers and regulatory requirements. Balancing consumer demand for environmental and social accountability and the circularity requirements of impending regulatory mandates leads the way. But this is just the beginning of what is possible when adopting product digitisation and traceability in being able to understand and operationalise the data underpinning the full lifecycle of products.  
About the author: Cyrus Gilbert-Rolfe leads the retail and apparel business for digital ID firm Kezzler. Prior to Kezzler, Cyrus was CRO of Evrything, and CEO of Movvo, the company that defined mobile location analytics. He also led sales at OATSystems, the RFID pioneer out of MIT Auto-ID Labs. Previously, Cyrus has held executive roles at Microsoft, EMC, Netscape and Lehman Brothers, and has helped build many start-ups, including a professional football club and a bottled cocktails business.