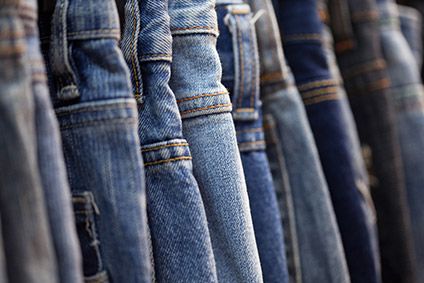 The addition of nine new members to The Jeans Redesign project means the Ellen MacArthur Foundation's initiative now has 100 brands, garment manufacturers and fabric mills, working together to change the way jeans are produced.
The new participants include fabric mill Black Peony HK LTD, and brands Bershka, Lefties, Massimo Dutti, Pull and Bear, Rotunda, Stradivarius, and Zara, as well as Ralph Lauren who is a partner of the foundation. The new milestone means the project now spans 27 different countries, within five continents – Africa, Asia, Europe, North America, and South America.
As these companies embark on their Jeans Redesign journey, they'll use the project as a starting point and space to test and demonstrate how all products can be designed so that they are used more, can be made again, and are made from safe and recycled or renewable inputs. At the end of the year, all participants will be required to transparently report on the progress they made on their commitment to make jeans in line with the guidelines.
Transitioning to a circular economy is essential for the fashion industry to tackle its wasteful and polluting practices, but transforming the fashion system so fundamentally is both a challenge and an opportunity. It means not only designing the products of the future, but also the processes, services, supply chains, and business models that will deliver them.
Launched by the foundation's fashion initiative in 2019, The Jeans Redesign acts as a framework for companies across the industry to start designing with circular economy principles, and to work collaboratively and learn from each other. The guidelines, created with input from industry experts, set a minimum bar for circular denim and jeans, including guidance on recycled content, safe chemistry, material sourcing, and recyclability.
The project's first progress report, "The Jeans Redesign: Insights from the first two years", was published last year in conjunction with updated guidelines to continue to drive the industry forward. The insights revealed the project has demonstrated it is possible to create circular jeans today and it provided a clear picture of the current landscape in terms of solutions, barriers, and innovation gaps. These insights can now be used by businesses to take action, supported by policy development designed to scale a circular economy for fashion. For example, the project sees Coats, a member of the foundation's network, collaborate as an innovation expert on threads that enable recyclability.
As the journey of The Jeans Redesign continues and the ambition level is raised, the foundation says it looks forward to working with its new and existing participants to collaborate, drive change, and put its vision of a circular economy for fashion into action.