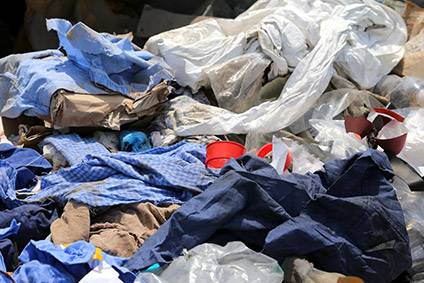 Labfresh, a Dutch menswear brand, has uncovered Europe's 15 biggest textile polluting nations in a study aimed at encouraging a change in fashion consumption habits and reducing textile waste.
The study analyses the 15 European nations that produce the largest amounts of textile waste each year.
In addition to the total amount of fashion waste produced yearly, the level of private expenditure on new clothing, the market share of the industry in each country's gross domestic product (GDP), and the amount of exported clothing contribute to the calculation of the ranking of the largest textile polluting countries.
Together, the 15 countries produce more than 2m tons of textile waste annually, which is then recycled or disposed of permanently.
It also calculates a per capita share of the annual textile waste and of the respective disposal methods for each country. While 10% of all textile waste stays on the market as second-hand clothing, a further 8% can be added back to the production cycle through recycling. However, the remaining quantity is permanently disposed of. Almost a quarter (24.3%) of all textile waste is incinerated in a CO²-intensive process, and more than half (57.1%) of fashion waste ends up in landfills.
The ranking table is split into three clusters: textile waste – which describes what happens to textile waste and how much each country produces; the clothing industry – an indicator for the size of the clothing market; and second-hand – an indicator of the amount of exported pre-owned clothing per country that will most likely be part of another country's second-hand market.
Each cluster is made up of factors that contribute to its total score, which is then standardised on a scale from 0-100, with 100 representing the least sustainable country in regards to textile waste.
Of the 15 countries, Italy, Portugal and Austria were the top three most textile polluting nations based on an overall score, followed by the UK.