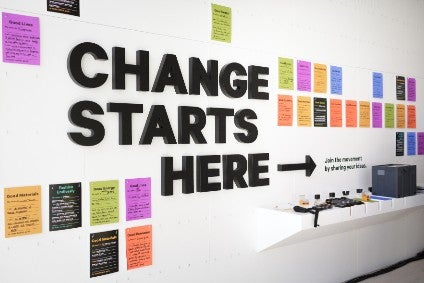 Wastewater management, dyeing solutions, textile waste and blockchain are among the solutions from the nine new innovators joining Fashion For Good's first South Asia Innovation Programme.
Fashion for Good was launched in March 2017 by C&A Foundation, the corporate foundation affiliated with global retailer C&A. It is an industry-wide call for collaboration to help brands, retailers and manufacturers find more innovative and sustainable ways of producing fashion.
"We are staunch ambassadors of industry-wide collaboration. With the launch of our regional programme in South Asia we strengthen our network and position ourselves to better serve local manufacturers, key supply chain actors, brands and innovators," says Katrin Ley, managing director, Fashion for Good. "By connecting them to our global network and leading players in the fashion ecosystem, we help the innovators' solutions and technologies reach scale."
Ley opened the Fashion for Good South Asia Innovation Programme yesterday (28 January), where 16 innovators from across the region pitched their ideas. The jury included executives from adidas, C&A, PVH Corp, and Welspun.
The selected innovators in the first-ever South Asia Programme are: AltMat, BlockTexx, Descatuk, Indra, InfiniChains, JSP, PurFi, Sasmira and Textile Genesis.
Over the next four months they will receive mentoring, bespoke coaching and support from Fashion for Good and its corporate partners, as well as access to a global network of partners and like-minded organisations, providing these innovators with the tools they need to grow.
With the addition of the new innovators to its Programme, Fashion for Good is seeking to scale the innovations from and for the South Asia region. Launch Partners Arvind and Welspun will provide support for the innovators in the form of local and manufacturing expertise and the possibility to partner on pilot projects to test the viability of their innovations in real-world, manufacturing processes.
"The Fashion for Good South Asia Innovation Programme brings together the most promising innovators whose technologies are set to transform the industry with manufacturers, like us, on the ground," adds Dipali Goenka, joint managing director, Welspun. "The platform provides a pool of incredible talent that we can tap into and implement in our own on-going efforts to move our supply chain towards circularity, and we are pleased to support the programme and lead the way in sustainability.
The nine selected innovators are:
AltMat
AltMat (previously Canva Fibre Labs) uses a mixture of mechanical, chemical and enzymatic process to produce industrial fit fibre and yarn made of agri-waste such as hemp and banana waste sourced directly from farmers and hemp producers.
BlockTexx
BlockTexx turns textile waste into a resource, stimulates the production of new products and meets consumers demands to reduce the environmental impact of our everyday clothing.
Descatuk
Descatuk has developed a process of fibre extraction and yarn creation from grass to produce a fabric that has a similar look to linen but a lighter touch. Grown in the highlands of India, the wild grass needs neither water nor pesticides. Descatuk also has a positive impact on livelihoods by providing fair job opportunities for locals.
Indra
Indra has developed affordable, fully automated wastewater management treatment and packaged re-cycling solutions. The process is capable of a variety of water treatments through novel innovations in electro-coagulation, electro-chemical oxidation, two-phase solids separation, disinfection, distillation and pollutant monitoring hardware.
InfiniChains
InfiniChains is a leading end-to-end track and trace solution using blockchain, AI and Cloud Computing to help brands and manufacturers to digitise sustainability practices. Through real-time data, efficiency and storytelling, they bridge the fragmented gaps between the different sustainability systems of farmers, manufacturers and brands.
JSP Enviro
JSP Enviro treats common effluents with Microbial fuel cells technology. The technology treats effluent water that can be reused, simultaneously producing energy thereby reducing the need for external energy, making it a self-sustainable waste-water treatment.
PurFi
PurFi rejuvenates pre-consumer textile waste back to virgin quality fibres from corporate waste streams to create a closed-loop solution. The technology can process cotton, PET, cotton/poly blends as well as separate out elastane.
Sasmira
Sasmira has a wide range of innovations and one of them is a supercritical CO2 dyeing technology. This cost-effective technique is waterless and does not use any chemicals. The remains of the dye are collected for reuse and carbon dioxide used in the process is recirculated back into the system.
TextileGenesis
TextileGenesis is a blockchain traceability system specifically created for the apparel sector that focuses on sustainable fibres such as wood-based fibres, organic cotton and organic wool. Consumers can scan the barcode with their mobile device to see the various steps that were taken to create the product.