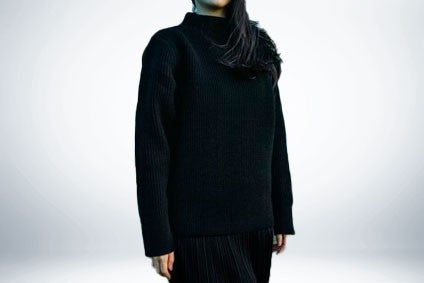 International technical apparel brand Goldwin has unveiled what is said to be the world's first knitted garment made with protein material produced via microbial fermentation as part of a collaboration with Japanese biomaterial innovator Spiber.
The Sweater is a milestone in Goldwin and Spiber's shared mission to reduce the fashion industry's impact on the environment by replacing traditional, petrochemical-based materials and production methods with innovative, biobased solutions.
It is Goldwin and Spiber's first Brewed Protein garment brought to market in the US and follows a limited release of the 'Moon Parka' last year. Designed primarily as a conceptual garment, the parka was available for sale only in Japan and billed as the world's first outerwear jacket featuring microbially-produced fabric.
Goldwin and Spiber's partnership began in 2015, but The Sweater marks the beginning of a new phase in the partnership, which the companies call 'Vision Quest', a project that unites partners around the world in the quest for a better future.
Brewed Protein materials are the protein fibres, films, and other types of materials manufactured using Spiber's proprietary fermentation (brewing) process. Using plant-derived sugars as primary raw ingredients, Brewed Protein materials are well-positioned to deliver significant contributions to animal- and plastic-free initiatives in a range of fields and industries, the firms say.
"Mankind has continued to evolve the sweater via the use of technology and knowledge throughout history and it is now essential winter wear," says Takao Watanabe, Goldwin's head of development. "The Sweater was devised while probing the origins of the supposed original form of these sweaters and what of this will persist into the future. This single black piece of apparel that signifies both the past and the future."
Designed to emulate a traditional ski sweater, with a low gauge knit and twisted yarn that delivers an ultra-soft and comfortable feel, The Sweater comprises 30% Brewed Protein and 70% wool. Manufactured in Japan, the unisex garment will be produced in limited quantities with an online lottery system in place for consumers in Japan, United States, Germany, Denmark, France, Italy, Portugal, Spain, United Kingdom, Sweden, and the Netherlands. Winners will be selected on 30 November.