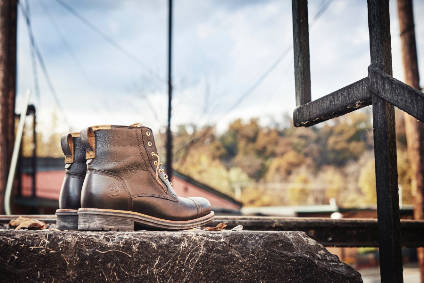 Timberland increased the use of organic, US-origin and Better Cotton in its products in the third quarter, the US outdoor apparel and footwear giant has said, as it outlined its latest sustainability achievements.
The company said 79% of all cotton used in its apparel was either organic (30%), US-origin (7%), or Better Cotton Initiative certified (42%) in the third quarter. This is up from 69% in the same period last year.
Most of the cotton sourced by Timberland – 86% – is for its internal global apparel production. The remaining cotton is sourced by its licensees (7%) and Central America apparel operations (7%). As always, the brand says it remains committed to its goal of 100% responsibly-sourced cotton by 2020.
Setting out its metrics for the third quarter of 2017, the company's goods were sourced from 365 factories during the period, of which 99% met or exceeded the company's social and labour compliance expectations.
In terms of the materials used in its products, Timberland said its average use of volatile organic compounds (VOCs) per pair of shoes was 52 grams during the quarter, a 4% improvement over last year's 54 grams. The company said the reduction was achieved through continued efficiency of VOC usage and can be partly attributed to strategies implemented in its owned manufacturing facility in the Dominican Republic. These strategies include employee training, better containment of VOC adhesives to prevent evaporation, upgrading VOC application equipment, more targeted application, and increased material pre-treatment processes to minimise the VOC adhesives needed.
"While progress has been made over the years, there is still work to be done with our suppliers to improve their chemical management practices further and to identify new alternatives for lower VOC adhesion methods that maintain the necessary performance attributes for our product lines," the firm said in its report. "We remain committed to our goal of averaging 42 grams of VOCs per pair by 2020."
However, the firm booked a decline in the overall volume of leather produced at tanneries with a Gold or Silver rating from the cross-brand Leather Working Group (LWG). LWG certification is awarded to tanneries that demonstrate environmental best practices and performance in all areas of leather production, from chemical, water and waste management to energy use and hide traceability
At the end of the third quarter, 93.7% of the group's overall leather volume for Timberland footwear, apparel, accessories and licensed products was produced at tanneries that have a Gold or Silver LWG rating. This compares to 94.1% at the end of the second quarter. When looking at leather used for Timberland footwear only, 98.9% came from tanneries rated Gold or Silver.
Timberland also revealed that in 2016, 32% of the energy used at its owned and operated facilities was from renewable sources, which is even with its 2015 result. The brand has aligned its targets with parent company VF Corporation's goal to be sourcing 100% renewable energy for all owned and/or operated facilities by 2025.
Timberland's overall target is to source at least 50% of all energy used at its sites worldwide from renewable sources by 2020.