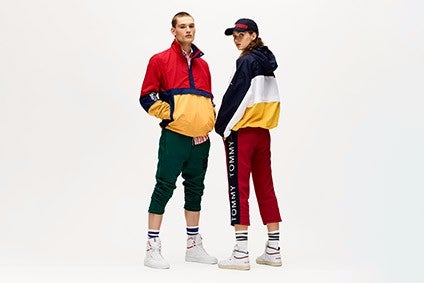 PVH Corp has announced an ambitious set of new sustainability targets for Tommy Hilfiger under the new Make it Possible Program, which has a commitment to achieve zero waste.
The group has outlined a set of 15 priorities via a set of 24 targets it aims to meet by 2030 that are designed to reduce negative impacts to zero, increase positive impacts to 100%, and improve the over 1 million lives across the company's value chain.
The 2030 vision is centred around circularity and inclusivity:
Circle Round: Make products to be fully circular, and part of a sustainable loop.
Made for Life: Operate with sensitivity to planetary boundaries, for instance in the areas of climate change, land use, freshwater and chemical pollution, from what we buy to where we sell.
Everyone Welcome: Be a brand that works for every Tommy Fan – always inclusive, completely accessible.
Opportunity for All: Create equal access to opportunity – no barriers to success at Tommy Hilfiger.
Specifically, with regard to its supply chain, by 2025 Tommy Hilfiger aims to produce 3m pieces of denim containing post-consumer recycled cotton and make circular design standard for every garment.
It will also phase out the use of virgin oil-based polyester for alternatives with lower environmental impact, sustainably source 100% of man-made cellulosics, leather and wool and obtain 40% of nylon from recycled sources.
50% of its denim products will use low impact manufacturing in finishes and fabrics while 100% of packaging in operations and supply chain will be recyclable, reusable or compostable.
Water leaving wet processors will have zero hazardous chemicals and will be filtered for harmful microfibers. Tommy Hilfiger will also establish three collective action projects in its most water-stressed sourcing communities.
Tommy Hilfiger said: "As our brand has evolved over the years, driven by this inclusive spirit, so has our commitment to social and environmental sustainability. With Make it Possible, we will go even further with our commitment. We're working towards our vision with the entire organization focused on it and, while we're not there yet, we are going to get there."
"In these times of health, human, environmental and economic crisis, we share a responsibility to find innovative solutions that will encourage inclusivity and build a more circular future," added Martijn Hagman, CEO, Tommy Hilfiger Global and PVH Europe. "It is in our nature to drive change, even in the most challenging of times, which is why we are announcing our ambitious Make it Possible sustainability program, outlining 24 targets towards 2030. Tommy Hilfiger has a decade's long track-record for driving a more sustainable future, including pioneering low impact denim processes, championing water stewardship, and creating more inclusive collections. Make it Possible is one way we will work together to make a meaningful and lasting contribution towards a better fashion industry."