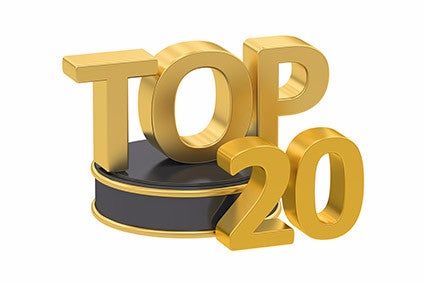 Instead of our regular roundup of the most-read stories on just-style during the week, we thought a fitting end to the year would be to take a look at the top news stories on just-style in 2017. Sustainability, speed to market, worker safety, and minimum wages were just some of the issues that made the headlines.
1: Sri Lanka's MAS to open first US manufacturing facility Sri Lankan apparel and fabric manufacturing conglomerate MAS Holdings is to open its first production and development centre in the US in a move designed to improve speed to market and flexibility for its customers.
2: US and South Korea to "engage soon" on KORUS amendments The US has said it looks forward to "intensified engagement" with Korea to resolve outstanding implementation issues regarding its Free Trade Agreement with Korea (KORUS) in a way that will lead to fair, reciprocal trade.
3: Li & Fung to create "supply chain of the future" for PVH Hong Kong-based global sourcing specialist Li & Fung has inked a new deal to create the "supply chain of the future" for PVH Corp, owner of the Tommy Hilfiger and Calvin Klein brands.
4: US-based Trybus Group to open garment factory in Ethiopia US-based men's wear producer Trybus Group is expanding its supply chain into Ethiopia, becoming the latest company to set up a new factory in the country.
5: Fast Retailing reveals core Uniqlo factory list Japanese retailer Fast Retailing has published the names and locations of the 146 factories that manufacture garments for its Uniqlo casual clothing chain, in a bid to increase transparency across its supply chain.
6: VF CEO applauds early results of speed-to-market plan The CEO of US footwear and apparel giant VF Corp has praised the company's early progress in its five-year plan to revamp its supply chain – a move aimed at accelerating speed-to-market and getting closer to its consumers.
7: Warning of terrorist threat to Bangladesh garment buyers Bangladesh's garment industry is once again facing safety fears after a US State Department security update warned of Islamic State (IS) terrorists targeting clothing buyers in the country's most secure zones.
8: First US hemp fibre contract signed for clothing America's first contract to supply US-grown textile grade hemp for use in apparel production has been agreed with a Los Angeles-based clothing company, marking a milestone in the use of the previously outlawed fibre.
9: Inditex, H&M, and Nike ranked supply chain leaders Swedish fast-fashion retailer H&M, Zara brand owner Inditex and sportswear giant Nike are not only among the world's leading brands, they also have some of the best supply chains too, according to a new review.
10: Li & Fung and South Ocean form leading knitwear supplier Hong Kong-based global sourcing specialist Li & Fung has partnered with South Ocean Knitters Holdings to create one of the largest knitwear suppliers globally.
11: Patagonia launching circular economy digital platform US outdoor clothing brand Patagonia is to launch an e-commerce platform for its Worn Wear programme where it will sell used Patagonia clothing and gear online, sourced directly from its customers.
12: How strategic suppliers offer faster speed to market It's easy for brands and retailers to see how they can potentially benefit from a successful speed-to-market program – but the irony is that without the support of strategic suppliers, it can be a long and difficult task to achieve alone.
13: Bangladesh garment factory explosion kills 11 Swedish fashion retailer Lindex says it is taking the deaths of 11 people at one of its "most important" supplier factories very seriously and is monitoring the situation on the ground in Bangladesh after a boiler exploded at the Multifabs Limited garment factory yesterday (3 July).
14: The world's 10 worst countries for workers An annual survey of violations of human and trade union rights ranks key apparel-producing nations including Bangladesh, Egypt, Guatemala and Turkey among the ten worst countries in the world for working people.
15: UK textile and clothing manufacturing seeing revival UK textile and clothing manufacturing is enjoying a revival, new figures suggest, with production increasing by 2.5% to GBP9.1bn (US$11.4bn) over the last two years.
16: Nike to cut 1,400 jobs in speed-to-market shake-up Nike is to axe around 1,400 jobs or 2% of its global workforce and reduce its number of styles by 25% as part of a restructuring that will see the US sportswear giant move closer to the consumer.
17: Hansae under observation for systematic labour violations South Korea's Hansae, one of the world's largest apparel manufacturers, has been placed under observation by Norway's Central Bank for systematic violations of human rights in a number of its factories in Vietnam.
18: Clarks eyes speed to market with new UK manufacturing facility UK footwear group Clarks is to begin making shoes in the UK again, with a new manufacturing facility that will utilise "cutting-edge technology" for greater speed to market and greater flexibility and innovation in design.
19: Garment brands warn Myanmar over Rohingya crisis Leading European and US apparel brands and trade associations have called on the Myanmar Government to respect the rights of the ethnic minority population of the conflict-torn Rakhine State or risk further eroding business and investor confidence.
20: Gap unveils five-year sustainable fibres pledge US specialty clothing retailer Gap Inc is stepping up its commitment to sustainability with a pledge to use more sustainable fibres in the production of its namesake and Athleta brand apparel within the next five years.
Click on the following links for a look at what else led the way on just-style in 2017: