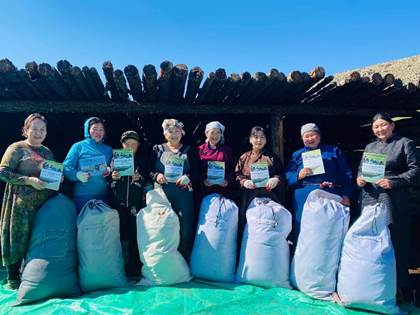 Despite having the potential to bring tremendous value to the cashmere supply chain, the Sustainable Fibre Alliance (SFA) says women herders in Mongolia are hugely underrepresented within decision-making roles in their communities.
The new 'Women Empowerment Programme in Mongolia' involves a series of training workshops that target various issues within the industry – from better codes of practice when harvesting and sorting cashmere, to the importance of cooperation between supply chain stakeholders.
By gaining an understanding of what the cashmere sector is looking for, the herders can add value to their cashmere and strengthen relations with buyers, thereby securing their future income.
The aim of the workshops is to ensure that women herders have the knowledge and skills that will help improve their social and economic participation within the cashmere sector and enable them to contribute to decision-making in their community.
Virtual and in-person meetings have already achieved high attendance and positive feedback from both instructors and participants.
Fifteen instructors have carried out workshops for nearly 700 women from 31 herder cooperatives across Mongolia, with participants set to receive  a certificate from  vocational body the Technical Vocational Education.
"We know that investing in women leads to benefits for their families and communities," says Lisa Greenwald, chief merchandising officer of SFA partner J.Crew.
"This programme will give over 1000 women herders access to programmes to help grow their individual businesses and take important leadership positions in their communities."
Batkhishig Baival, country director of SFA Mongolia, adds: "I am very confident that it is possible to improve the quality of cashmere harvesting and post-harvest management in a shorter period of time through educating and empowering rural women.
"Mongolian women herders play key roles in their communities, so we are expecting positive changes in herder life and hope that they will be able to share and demonstrate what they have learned during this training with others.
"To develop the competence-based training curriculum, we are collaborating with the government vocational education institute and national training professionals to make this programme targeted and regionally-appropriate."