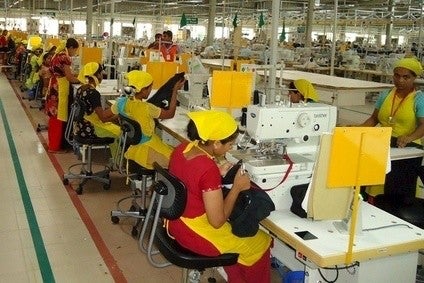 A sustainable future for Bangladesh's ready-made garment sector will depend on greater transparency and the shift to a fully integrated supply chain model, according to discussions during a recent meeting between the International Labour Organization and the government of Bangladesh.
The discussions were part of a workshop facilitated by Better Work Bangladesh to review progress under the third pillar of the Bangladesh Sustainability Compact – Responsible Business Conduct – with participants looking at ways to ensure the future sustainability of the Bangladesh RMG industry.
The workshop recognised the pressing need to move from a traditional supply chain model to a fully integrated one and to make the necessary investments in capability and efficiency in order to future-proof the industry against competition from other garment-producing countries.
There were also calls from employer representatives to review the current pricing model to better ensure the industry can commit to decent work and productive employment.
Delegates also stressed the need for greater transparency along the entire supply chain to improve purchasing practices. A number of participants also stressed the need to avoid audit duplication and replace existing multiple factory audits with a single, universally recognised assessment.
"The government is firmly committed to the Sustainability Compact and the welfare of millions of RMG workers. To date, we have already seen increased wages, greater presence of the trade unions and improved workplace rights. We must continue to improve these responsible practices because the economy of this country depends heavily on RMG exports," said commerce secretary, Mofizul Islam.
Tuomo Poutiainen, ILO country director for Bangladesh, added: "Experience from other countries has shown that the ability of a garment producing country to rise up through the value chain depends on a number of factors, including close collaboration with brands, factories and the government, decent infrastructure and public services. This sector can only grow with greater transparency and stronger governance."
The Bangladesh Sustainability Compact is a landmark RMG compliance-monitoring framework that was rolled out after the Rana Plaza building collapse in 2013. It comprises of three pillars to promote continuous improvements in labour rights, workplace health and safety and responsible business conduct in the sector.
The Bangladesh government, the European Union, the United States, Canada and the ILO, accompanied by employers, trade unions and other key stakeholders are all partners of the Compact.