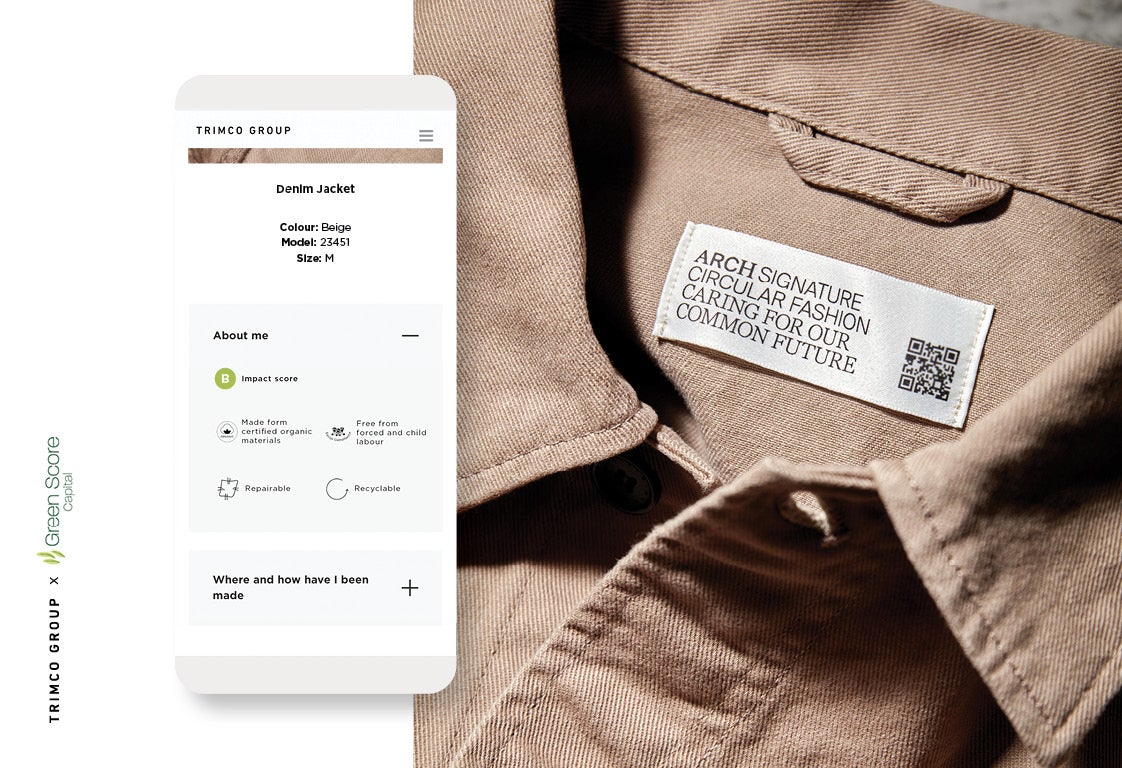 The duo points out that by integrating Green Score Capital's comprehensive and science-based product impact score calculation tool with Trimco Group's supply chain data monitoring and reporting platform, ProductDNA, they can offer brands an efficient and highly accurate one-stop-shop traceability and product green claims solution.
It leverages Trimco Group's global network and ProductDNA system, to extract the detailed information needed to calculate and measure the biodiversity and carbon footprint of garments and shoes. Green Score Capital then uses this information to provide brands with a robust, solutions-orientated Product Environmental Footprint (PEF) score.
Claire Piccinno, sustainability research coordinator at Trimco Group, believes there are so many aspects to the DPP (Digital Product Passport) that brands often have to work with several suppliers or solutions to be compliant, which can be very challenging.
Piccinno continues: "Our collaboration with Green Score Capital will help to streamline this process and ensure that brands receive the most up-to-date and accurate information. Acquired data also means that partnering brands are better protected and avoid the risk of being accused of greenwashing. ProductDNA was designed to help brands achieve their sustainability goals and this partnership adds another fantastic benefit to our already comprehensive solution."
Green Score Capital founder, Valérie Tiersen adds: "Since it was founded in 2019, Green Score Capital's focus has always been on helping companies to accelerate their environmental performance while ensuring their economic resilience. We believe that by combining forces with Trimco Group, we will be able to help companies to get onto their DPP journey faster and more efficiently, which is good for our planet, its people, and good for business."
The integrated solution is available to brands through Trimco's customisable ProductDNA platform, and brands can request a demonstration of the various modules available on ProductDNA by getting in touch with Trimco Group.
As part of the DPP program and workgroup assigned by the French government, Green Score Capital highlights its processes are comprehensive, providing a customised solution based on the French government's criteria, and offering its expertise and scientific knowledge.
In addition to this, the company has developed its own PEF methodology, going beyond the standard EU PEF requirements, ensuring that the system is ongoingly aligned with the law advancements, including environmental laws such as the Corporate Sustainability Reporting Directive or the law on deforestation.
Earlier in June, Trimco Group entered a strategic partnership with Raddis Cotton to invest in climate-smart rainfed regenerative cotton production.