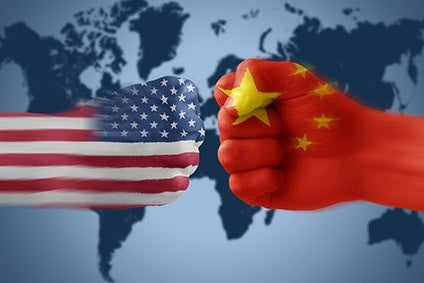 Just as it seemed the ongoing US-China trade war was heading into the final round of talks, US President Donald Trump ramped up the rhetoric over the weekend with threats to not only raise tariffs on certain Chinese imports – but also to extend the tariffs to cover all imports from China.
In two tweets on Sunday (5 May) the President Trump said he plans to raise tariffs on US$200bn worth of Chinese imports from 10% to 25% on Friday 10 May because the talks have been moving too slowly.
For 10 months, China has been paying Tariffs to the USA of 25% on 50 Billion Dollars of High Tech, and 10% on 200 Billion Dollars of other goods. These payments are partially responsible for our great economic results. The 10% will go up to 25% on Friday. 325 Billions Dollars….

— Donald J. Trump (@realDonaldTrump) May 5, 2019
….of additional goods sent to us by China remain untaxed, but will be shortly, at a rate of 25%. The Tariffs paid to the USA have had little impact on product cost, mostly borne by China. The Trade Deal with China continues, but too slowly, as they attempt to renegotiate. No!

— Donald J. Trump (@realDonaldTrump) May 5, 2019
And he threatened to impose an additional 25% tariff on all remaining imports from China – worth around US$325bn. While some textile products are already affected by the punitive tariffs, extending this to all goods from China would bring clothing and footwear into the fray for the first time.
Trump's warnings come as China's top trade negotiators prepare to head to Washington for the latest – and potentially final – round of negotiations on a trade agreement between the two countries later this week.
The talks had been thought to be making good progress, but Trump said in his tweets that the discussions are going "too slowly" as China attempts to "renegotiate."
His social media outburst could be intended to give US officials additional leverage in the upcoming discussions, but groups representing US apparel and footwear retailers and importers have condemned the plans.
The tariffs – both those that would be increased to 25% on Friday, and those that would be added to consumer goods like clothing and shoes that are not currently being charged with punitive tariffs – "will only hurt US families, US workers, US companies, and the US economy," says he American Apparel & Footwear Association (AAFA).
Last year, AAFA estimated that a 25% tariff on apparel and footwear would result in a family of four paying an additional $500 a year on these products alone.
Likewise, a sudden tariff increase "with less than a week's notice would severely disrupt US businesses, especially small companies that have limited resources to mitigate the impact," says David French, senior vice president for government relations at the National Retail Federation (NRF).
He adds: "We want to see meaningful changes in China's trade practices, but it makes no sense to punish Americans as a negotiating tactic. If the administration wants to put more pressure on China, it should form a multinational coalition with our allies who share our concerns."
The tit-for-tat tariff dispute between the US and China has been running since the middle of last year, triggered by US concerns over China's unfair trade practices.
Currently, over US$250bn in Chinese exports to the US have been hit by higher tariffs, while around $110bn in US exports to China are also subject to new tariffs.
The US had threatened to increase the punitive tariff rates from 10% to 25% on 1 March, but the move has been delayed while the two sides try to strike a deal.
According to trade law firm Sandler Travis & Rosenberg, any decision to actually impose the threatened tariff increases would have to be made via an official communication from the White House. The White House has delayed these increases twice before and could do so again depending on various factors, including progress in the next round of talks and the reaction of financial markets.
Despite a shift toward lower-cost manufacturing bases like Vietnam and Bangladesh, China is still the single biggest apparel supplier to the US – with volumes rising and prices continuing to fall in 2018.
Indeed, as reported on just-style recently, China has a 41.9% share of total US apparel imports, with shipments edging up 1.34% to US$27.4bn year-on-year in 2018. In volume terms, there was a rise of 2.7% to 11.67bn square metres equivalent (SME). China's apparel per unit prices are the lowest of all the top-10 supplier countries – falling in 2018 for the sixth year running.
A separate analysis on just-style today into the impact of various China tariff scenarios on the US textile and apparel industry has found a likely rise in US-made textile and apparel production, but a decline in US textile exports – and a rise in apparel imports from Asian suppliers other than China.