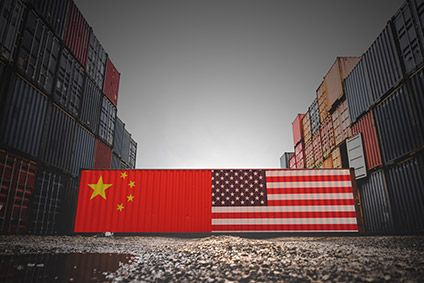 The Office of the United States Trade Representative (USTR) has confirmed the Trump's administration's intent to raise tariffs on US$200bn of imported Chinese goods from 10% to 25% tomorrow (10 May).
In a notice published to the Federal Register today (9 May), USTR said: "The rate of additional duty will increase to 25% with respect to products covered by the September 2018 action on 10 May 2019."
The notice comes four days after President Trump took to Twitter to reveal his plans to raise the tariffs because talks between the US and China to try to resolve the issue have been moving too slowly.
The US had threatened to increase the punitive tariff rates from 10% to 25% on 1 March, but the move was delayed while the two sides tried to strike a deal.
International trade law firm Sandler, Travis & Rosenberg said the notice also reiterates USTR's intention to implement a process for requesting exclusions from the tariff – but makes no mention of a possible additional tariff on hundreds of billions of dollars' worth of other imports from China not already subject to higher tariffs under the Section 301 process.
While some textile products are already affected by the punitive tariffs, extending this to all goods from China would bring clothing and footwear into the fray for the first time.
In a statement yesterday (8 May), the National Council of Textile Organizations (NCTO) said it appreciates the Trump administration's action to crack down on "unfair trade practices" from China through the Section 301 mechanism.
"It's long past time we address China's unfair trade practices, particularly relating to intellectual property abuses," said NCTO president and CEO, Kim Glas.
"However, we remain very concerned that finished Chinese textile home furnishings and apparel are not on the administration's retaliatory tariff list. Chinese imports of finished goods into the US market have the most significant impact on domestic textile and apparel production, investment and jobs. In order to address the crisis, we need to get to the very heart of the problem."
NCTO claims that according to US government data, China predominantly ships end items to the US versus intermediate inputs. Finished apparel, textile home furnishings, and other made-up textile goods equate to 93.5% of US imports from China in the sector, while fibre, yarn, and fabric imports from China represent only 6.5%.
"NCTO also remains seriously concerned that some inputs critical to the competitiveness of US textile manufacturers remain on the retaliation list and will now face a 25% tariff. Duty increases on inputs alone, without addressing the growing problem of end products, can raise the cost of US textile manufacturers trying to compete with like Chinese products," Glas said.
"We are pleased that the administration intends to announce an exclusion process and we urge that the process be fair, transparent, and expeditious."