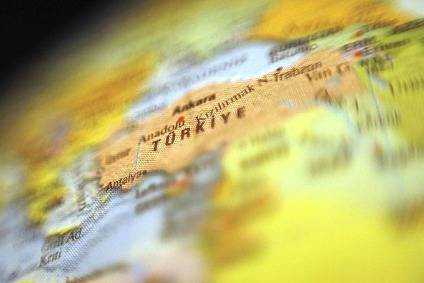 Turkey's clothing manufacturers are calling on global brands and retailers to reinforce dialogue with their suppliers over orders to maintain a "healthy and sustainable" supply chain.
According to the Turkish Clothing Manufacturers' Association Board (TGSD), emerging threats to the global economy due to Covid-19 are raising concerns for the ready-made garment industry in Turkey.
The industry body says when governments declared lockdown, global brands closed retail stores before turning to suppliers with "defensive measures" that have harmed the garment manufacturing industry, which employs over 1.5m in Turkey.
According to messages directed at the 'TGSD Coronavirus Help Desk' over the past four weeks, suppliers have drawn attention to actions taken by global brands and retailers such as: declaring no future orders until further notice, the suspension of production in the pipeline, asking for solicited discounts or cancellations of goods in the pipeline, and requesting an extension on the payment terms for shipped goods that are on their way to distribution centres or already in the stores.
"A halt in high-volume production at the beginning of the season means that large quantity orders are creating massive inventories for the factories," TGSD says. "Along with the inventory cost, manufacturers bear full liability for materials nominated by brands on their own, which constitutes an existential threat to companies most of which operate within one-digit margins. If brands do not help their suppliers finance the minimum liabilities, suppliers will not be able pay their employees' salaries and secure their livelihood."
TGSD continues: "Manufacturers acknowledge the difficulties faced by retailers in trying to retain their liquidity needed to keep them afloat. As long as the requested delay time is reasonable, manufacturers may bridge the gap by benefiting from relief programs or monetary funds provided by the Turkish government.
"This crisis presents an opportunity for retail businesses and manufacturers to reinforce their dialogue, and continue to communicate with mutual respect and understanding to maintain a healthy and sustainable supply chain. Businesses should remember that once the pandemic is over, they will be looking for long-term strategic partnerships that are kept intact; and true partnerships are those that yield long term benefits for decades to come."
Last month, the president of TGSD complained about the treatment his members have experienced at the hands of international brands and retailers during the Covid-19 crisis.
By cancelling current and future orders, extending payment terms and demanding discounts, brands have devastated the Turkish garment manufacturing sector, with 80% of factories stopping production, and leaving them with an estimated US$3bn in inventory on hold, he said.