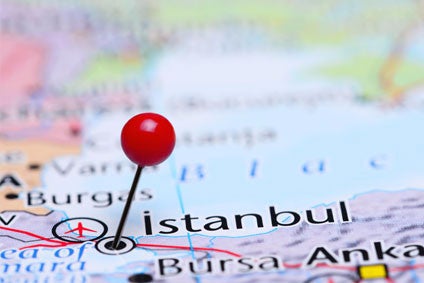 Turkey's Trade Minister, Rukhsar Pekcan, has outlined a TRY3.1bn (US$570m) package to help the country's exporters grow added-value product sales.
Pekcan said the investment would mainly support small-medium enterprises and encourage them to produce higher-value items for export.
Last week, the Istanbul Ready-to-Wear and Apparel Exporters Association (IHKIB), said the country is eyeing a 10% increase in apparel exports for 2019. Latest figures from the Turkish Exporters Assembly show a 3.6% jump in annual apparel exports for 2018 to US$17.6bn, up from US$17.03bn the year before. In volume terms, exports of apparel rose 7%. For the same period, textile and raw material exports grew 4.5% to US$8.5bn.
According to the re:source by just-style strategic sourcing tool, Turkey is amongst the world's top ten clothing and textile exporters thanks to its high quality, proximity to Europe and Asia, skilled labour, and well-developed domestic supply chain. Turkish manufacturers can offer fast delivery times, flexibility for in-season repeats, and the ability to trial new products and trends but, like other supplier countries, faces competition from low-cost producers in Asia.
Peckan said the ministry supported 12,555 firms in 2018, adding: "Technology, branding, and design, which were our priorities, took the biggest share of our budget with TRY861m (US$159m) in 2018."
Some 600 firms' technology, branding, and design activities were supported in 2018, and with the new investment more firms will be supported, but the focus must be on creating value-added offerings, she noted.
"We designed all of our export support to develop fields which contribute to Turkey's export potential. The ultimate goal of all these support programs; is to direct our exporters to export high-tech and value-added products."