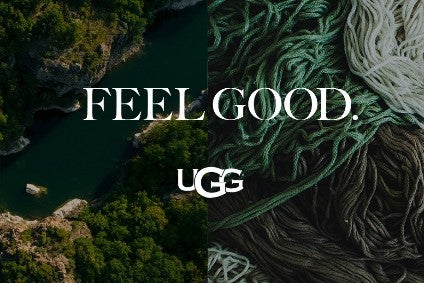 Footwear brand Ugg has unveiled a new 'Feel Good' platform to give context to its long-term sustainability goals and help consumers hold the company to account.
Consumers will be able to follow the brand's actions and understand its impacts, using this knowledge to make sure the company, which is a division of Deckers Brand, is transparent, accountable, and both socially and environmentally progressive.
"These are critical times when we must all play our part in delivering the United Nations Global Compact Sustainable Development Goals and the Paris Agreement through a future which is sustainable and resilient," says Dave Powers, president and CEO, Deckers Brands. "We believe in transformative change – change that is only possible with a focused and transparent approach."
The site is focused around three key pillars – Environment, Community and Innovation – and highlights the ideas and science behind the Ugg brand's sustainability strategy. This includes a focus on regenerative farming through a partnership with non-profit The Savory Institute, as well as carbon accounting and reduction measures in line with the Paris Agreement goals through Science-Based Targets.
The brand also has a target to increase its use of recycled, repurposed, regenerated (plant-based), renewable (bio-based), and certified fibres by 35% by 2027.