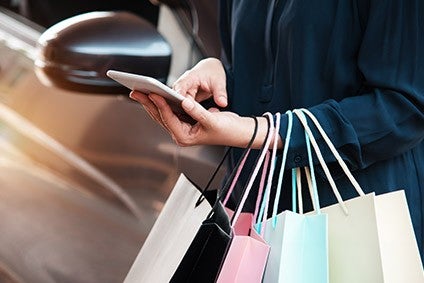 UK retail sales have seen a year-on-year fall of 19.1% in April, the worst decline recorded since the British Retail Consortium (BRC) began monitoring sales activity in January 1995 – with clothing, in particular, being hit hard.
April figures from the BRC-KPMG Retail Sales Monitor were below the three month and 12-month average declines of 7.5% and 2.3% respectively, both record declines in themselves, showing the impact of lockdown measures.
On a like-for-like basis, which excludes temporarily closed stores (but includes online sales) total retail sales grew 5.7% compared with April 2019. The figure is primarily driven by online sales.
In non-food items, over the three months to April, in-store sales of non-food fell 36% on a total basis and 17.3% like-for-like. Online non-food sales, however, jumped 57.9% in April on a year-on-year basis, way above the 12-month average growth of 8.5%.
But clothing and footwear have not been areas to benefit from the surge in online traffic, as consumers continue to focus on purchasing items such as outdoor equipment, games consoles, office equipment, and haberdashery to keep themselves occupied during the lockdown period.
"Helen Dickinson, chief executive of the British Retail Consortium, says: "With lockdown measures in full swing, April saw a record fall in retail sales. For many non-food goods, such as clothing, footwear, and large household items, the decline was particularly steep as consumers responded to lockdown conditions.
"However, even the dramatic rise in online sales could not make up for the loss of in-store purchases. Coronavirus has accelerated many of the trends seen prior to the outbreak and it is likely that as the lockdown wears on, these new shopping habits – such as the trend towards online purchases – will become more entrenched for many consumers. "
Paul Martin, UK head of retail at KPMG, adds: "With the nation firmly under lockdown throughout April, drastic retail sales declines were to be expected. Total sales fell a staggering 19.1% compared to last year – eclipsing any previous fall since records began – but that pain hasn't been felt equally. So few physical stores, or indeed retailers, were open for business in the month, making like-for-like comparisons hard to establish, but the ability to continue trading or leverage online channels was beneficial for the fortunate few though.
"Aside from 'essential' retailers still operating physically, consumers have had little alternative but to log-on, and online sales were up nearly 60%. As you'd expect with consumers staying at home, the focus has been on home-related goods, as well as trying to keep entertained. Computing equipment, household gadgets, as well as toys and baby equipment were among the categories that performed strongly. Meanwhile, other non-food categories, especially fashion, experienced a significant decline.
"The disparities in retail continue, not only between 'essential' and 'non-essential', but also between those with an online channel and those without. Eyes are firmly fixed on how the easing of restrictions will impact consumer spending going forwards, with the acceleration of online sales likely here to stay and overall demand in certain categories, like fashion, remaining subdued for some time."
Clive Black, analyst at Shore Capital comments: "The demand that was evident for clothing in the UK was largely home-based, so athleisure, leggings, loungewear and nightwear. Correspondingly, demand for formalwear and swimwear and accessories dried up."
Going forward, he says, it is "hard to be wholly optimistic" about the near-term prospects for the UK consumer market.
"Whilst business rate relief and furloughing of employees, now extended to the end of October 2020, help with operating costs, there remain major challenges around potential shifts in shopper behaviour following this crisis, key macroeconomic factors like ongoing household savings, indebtedness, taxation and so expenditure and so the demand for consumer goods and services.
"For the liquid and solvent, there will, therefore, be opportunities to acquire good brands and assets, probably at discount prices due to liquidity crunches. Equally, we anticipate a reduction in capacity and the probability of a whole new debate on the future of urban centres and the role that retailing plays.
"For the survivors, that capacity-cut may also be an opportunity to rebound with more pace than one can perhaps currently envisage; at this time, for example, we really only have firm confidence that the likes of Marks & Spencer, Next and Primark (Associated British Foods) will be firm multiple chain features of the high street post-Coronavirus.
"Additionally, in both grocery and non-food, the online channel, where the UK was already in the higher echelons of global participation, has shifted to the right with the market expanded. That shift is likely to be structural in our view, so applying further downward pressure on the role and performance of shops."