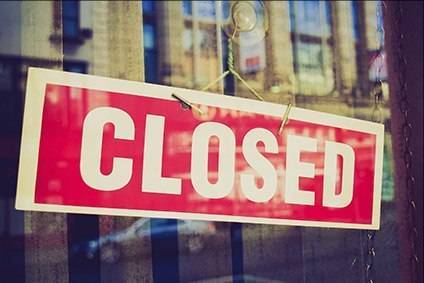 UK retail sales slumped to new record lows in March, official data showed today (24 April), with the volume of sales at clothing and footwear stores down a whopping 34.8% on the previous month.
The figures are the first from the Office for National Statistics (ONS) since the UK lockdown began on 23 March, when many non-essential stores temporarily ceased trading to try to halt the spread of the coronavirus.
Overall, the volume of UK retail sales plummeted 5.1% last month compared to February, with the month-on-month decline in retail sales values reaching 5.7%.
Food stores and non-store retailing were the only sectors to show gains in March, with food stores seeing the strongest growth on record, at 10.4%. Online sales as a proportion of all retailing reached a record high of 22.3% in March 2020 as consumers switched to online purchasing following the pandemic.
Clothing stores took a big hit, with sales values tumbling 35.5% from February. Compared with March last year, the value of clothing sales declined 28.4%. Consumers focused on essential purchases to stockpile during the month, with clothing suffering as a result.
Department stores, however, saw an increase in sales following a general downward trend in recent times, as some stores continued to trade online and provided delivery options. However, while they booked higher sales of food, household goods and other non-food items, clothing sales showed a sharp decline of 34.3% on the month.
While many online retailers have been able to continue trading during the coronavirus pandemic, even here clothing sales declined. The value of online food sales soared 101% on the previous month – but online clothing sales slipped by 0.8%.
"The combination of a UK-wide lockdown, closure of many physical stores, and consumer confidence at a historic low, has posed a significant challenge to all retailers, albeit with differing consequences across retail sectors," notes Ian Geddes, head of retail at Deloitte.
While Richard Lim, CEO at Retail Economics believes "retailers are in crisis mode as the impact of Covid-19 has obliterated sales to new record-lows.
"The immediate shock has forced new shopping behaviours and a focus on essentials. But worries about health, job security and prospects for the economy are causing some consumers to cut all non-essential spending and hibernate.
"The trauma will be most acute for apparel retailers, who are desperately managing cash flow to try and keep working capital above the water. Despite an unprecedented government support package, we have already seen some retailers fall into administration and it is inevitable that more will follow.
"But the effect will be felt unevenly across retail sub-sectors. The closure of non-essential retail stores has necessitated a shift towards online, providing an opportunity for retailers who over the years have invested heavily in their online operations. That said, at an industry level this will fail to offset the overall decline in demand as most retailers struggle to cope with a step-change in the volume of orders."