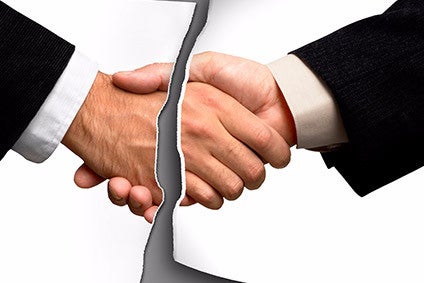 The UK competition watchdog instructed JD Sports to sell Footasylum last year after its in-depth investigation identified what it called competition concerns.
An interim order was issued during the investigation, which the CMA says is standard practice and prevents companies from integrating further. The CMA imposed this type of order on JD Sports and Footasylum in May 2021.
The order prohibited JD Sports and Footasylum from exchanging commercially sensitive information without prior consent, and required the companies to immediately alert the CMA of any chance this information may have been shared, the watchdog notes.
The order required JD Sports and Footasylum to have robust measures in place to prevent such breaches and ensure compliance with the order. Upon review, the CMA says it found both companies had "severely deficient safeguards in place – so much so that they created an environment where information exchanges were almost inevitable."
It claims during two meetings, which took place on 5 July and 4 August, Peter Cowgill, CEO of JD Sports, and Barry Bown, CEO of Footasylum, exchanged commercially sensitive information and then failed to alert or promptly alert the CMA.
The CMA explains Cowgill and Brown discussed Footasylum's financial performance along with closures of some Footasylum stores, and contract negotiations.
The CMA says sharing this information had the potential to affect competition in the market and lead to anti-competitive behaviour. In addition, it says the companies' subsequent failure to report these breaches significantly impacted its ability to act swiftly to stop the information from being shared further, and increased the risk that it could impact future business decisions taken by the companies.
"There is a black hole when it comes to the meetings held between Footasylum and JD Sports," points out Kip Meek, chair of the CMA inquiry group investigating the merger. "Both CEOs cannot recall crucial details about these meetings. On top of this, neither CEO or JD Sports' General Counsel can provide any documentation around the meetings – no notes, no agendas, no emails and poor phone records, some of which were deleted before they could be given to the CMA.
"Had there been proper safeguards in place, we would have been alerted to these breaches in good time and would have had the necessary information to tackle them head on. It jeopardised our ability to maintain the benefits of a competitive market for shoppers and ensure there is a level playing field for other businesses. This fine should act as a warning – if you break the rules there will be serious consequences."
The CMA says the companies have received a fine of nearly GBP4.7m for the collective breaches, which are split as follows: For failing to have safeguards in place, JD Sports must pay GBP2.5m and Footasylum GBP200,000. For sharing commercially sensitive information, and then failing to alert the CMA, JD Sports will be fined GBP1.8m and Footasylum GBP180,000.
In a statement, JD Sport says: "At no point has there been any intention to breach the rules although JD does accept that, inadvertently, it was in receipt of limited commercially sensitive information and that this was not reported to the CMA immediately.
"However, JD believes that a number of the further conclusions which the CMA have drawn are either incorrect or have been presented in a misleading manner through the use of inflammatory language. In particular, JD notes that the CMA are suggesting, for the first time, that phone records have been deleted and, whilst JD accepts that some phone records were not available, it absolutely refutes any allegation that this was due to records being deliberately deleted. In this regard, JD can also confirm that it voluntarily submitted all of its relevant devices to a third party for expert forensic analysis."
It adds it has always acted honestly and in good faith in its efforts to comply with the order and in responding to enquiries from the CMA.
The retailer also says it has had market standard guidance in place which has been continually reviewed and updated; there was no prohibition on the CEOs meeting and, indeed, JD was actively required to retain the employment of Footasylum's key employees during the period of the order; and that there was no legal requirement in the order for JD to either notify the CMA that a meeting had taken place or take notes of these meetings.
It adds: "Ultimately, JD does not believe that the description of events or the penalty that has been levied is a fair reflection of the group's efforts to ensure compliance with the order.
"JD will now review the detail of the CMA's decision although the group has already taken swift action to implement additional measures to strengthen its processes in this area which now go well beyond what is legally required by the CMA.
"Separately, JD will continue to work constructively with the CMA on the process to divest Footasylum in line with the CMA's decision in November 2021."
Bown did not respond to Just Style's requests for comment sent via LinkedIn at the time of going to press.