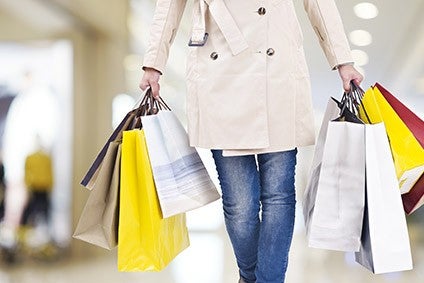 Clothing stores in the UK will be allowed to reopen from 15 June in newly announced plans from the government.
Fashion retail, fashion designers, tailors and dressmakers will be among the retailers that are expected to be able to re-open after closing their doors for several weeks under government orders in a bid to curb the spread of the coronavirus outbreak.
From 1st June: Outdoor markets can reopen and sell any items, including non-essential ones like flowers.

Car showrooms can reopen.

From 15th June: All other non-essential retail can reopen, so long as the businesses can abide by social distancing rules on their premises.

— Robert Jenrick (@RobertJenrick) May 25, 2020
Stores will be required to undertake an appropriate Covid-19 risk assessment in order to open. Employers will also face spot checks to ensure they are implementing social distancing.
Firms have been told to consider a number of measures to reassure customers and staff, including: Placing a poster in their windows to demonstrate awareness of the guidance; storing returned items for 72 hours before putting them back out on the shop floor; placing protective coverings on large items touched by the public such as beds or sofas; and frequently cleaning objects and surfaces that are touched regularly, including self-checkouts.
UK Fashion & Textiles Association (UKFT) says to help manage the risk all businesses should:
Increase the frequency of handwashing and surface cleansing
Make every effort to allow staff to work from home. Where this is not possible businesses should make every effort to maintain the 2 metre physical distancing guidelines
If it is not possible to maintain the 2 metre physical distancing take all possible measures to reduce the risk of transmission
Use screens where possible; team members should work back to back or side to side; reduce the number of people operating at one time (introduce shift working)
Give particular thought to protecting the most vulnerable.
While manufacturing facilities were allowed to remain open through the lockdown, many were unable to do so.
The UKFT has produced guidance on a safe return to work for the manufacturing sector, which considers the safety and wellbeing of workers and the wider community. The full guidance can be found here.
Commenting on the announcement, Sofie Willmott, Lead Retail Analyst at GlobalData, says the additional two-week delay in opening is another blow for the footwear and clothing sector.
"Non-essential retailers whose stores have been closed for almost 10 weeks already, now cannot open until mid-June resulting in another two weeks' of missed sales and two weeks less to clear through summer stock which has already been off limits for a significant chunk of its selling period. The warm weather in recent weeks would have been the ideal opportunity for clothing & footwear retailers to sell through their spring-summer ranges but stores being shut for a longer period than anticipated will add to the swathes of discounting we can expect when branches reopen. Clothing and footwear is set to be the sector hardest hit by COVID-19 with offline clothing & footwear spend set to plummet over 40% this year.
"Non-food retailers that have been able to open stores already will have a head start on those selling clothing, footwear, electricals and books, both in terms of taking sales and adjusting to the new health and safety measures required. Clothing and footwear is probably not at the top of most consumers' shopping lists considering the absence of social occasions but given they can spend in garden centres and home stores already; clothing and footwear retailers are at a disadvantage."