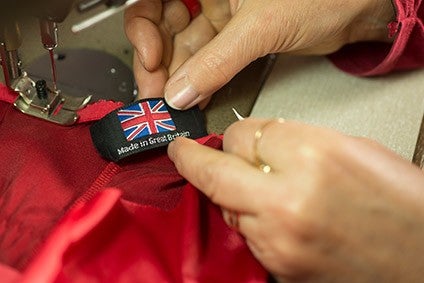 The UK government is considering the introduction of a Garment Trade Adjudicator as one of the possible routes for improved supply chain compliance and to accelerate efforts to clamp down on abusive purchasing practices in the fashion supply chain.
An apparel fair purchasing watchdog could be modelled on the Groceries Code Adjudicator and its regulation of how supermarkets interact with farmers and other suppliers.
The government's Environmental Audit Committee (EAC) first made the recommendation in a letter to Business Secretary Kwasi Kwarteng MP last month amid concerns that voluntary corporate social responsibility initiatives have failed to make substantial improvements to pay and working conditions in the fashion industry.
In his response, Kwarteng notes that an adjudicator has been successful in the grocery sector in ensuring large retailers treat their direct suppliers lawfully and fairly, through its effective enforcement of the Groceries Supply Code of Practice.
He adds, however: "There are significant differences between the groceries sector and the fashion industry in terms of scale and distribution of market share, so we need to understand whether this model would be as effective in driving compliance in garment manufacturing."
Kwarteng says his officials have met with Fiona Gooch from fair trade charity Traidcraft – who was cited in the EAC's letter as saying the UK is among the worst for cancelled orders – to further discuss the proposal and "continue to consider this question."
In addition, Kwarteng says he understands the desire of retailers for more assurance of compliance in their UK supply chains, and a proposal for a licensing scheme is also being explored.
"It is also important to consider the impact that licensing would have on the manufacturing sector and the role that brands themselves have to play in preventing abuses. My officials, along with Home Office colleagues and the Gangmasters and Labour Abuse Authority have been engaging with the British Retail Consortium to better understand how this proposal might work. Minister Scully has also met with the BRC and Dr Lisa Cameron, chair of the Textiles and Fashion APPG, to discuss this proposal and will be jointly chairing a roundtable with Minister Atkins with retailers to explore the issues further."
Meanwhile, the EAC will hold another evidence session as part of its Fixing Fashion inquiry follow-up to examine the new Textiles 2030 voluntary industry initiative that launches on Monday (26 April).
Textiles 2030 aims to align the UK fashion industry with the goals of the Paris Climate Agreement. Signatories, which include some of the UK's biggest brands and retailers, will commit to reducing their emissions by 40-50% by 2030.
WRAP, as coordinators of the scheme, will be appearing on the first panel of the evidence session alongside participators Primark and the Renewal Workshop.
The second panel will discuss how the announcement by the Government accepting another EAC recommendation of an Extended Producer Responsibility scheme for textiles policy can be designed to support Textiles 2030 and incentivise sustainable design within the fashion industry.