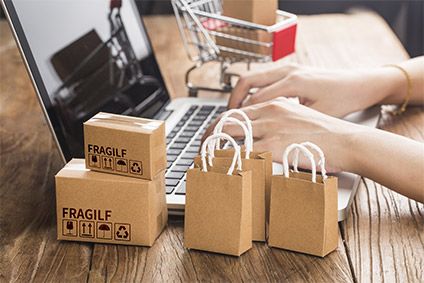 Online clothing sales growth in the UK rose again in October, with the final week seeing sales surge by more than 17% on last year in anticipation of new lockdown measures.
The clothing sector, which is among those hardest hit by the lockdown restrictions, saw sales rise 17.1% year-on-year in the last week of October – the category's strongest performance since Covid hit, according to the latest IMRG Capgemini Online Retail Index, which tracks the online sales performance of over 200 retailers.
Overall online retail sales growth during the month was a modest 35.7% rise year-on-year, compared to last month's increase of 42%. However, the downward trend in growth reversed throughout the month, with sales climbing back up to +43.4% year-on-year by the final week.
At a category level, this pattern was echoed in clothing sales, which recorded falling then rising growth of +6.6 year-on-year, -0.4%, and +4.9% for weeks one, two, and three. Footwear also finally recorded positive sales growth in the last week of the month, with spend rising by 2.7% on last year.
Mirroring the trend in sales figures since lockdown restrictions were put in place, multichannel retailers maintained their advantage over their online-only counterparts, recording growth of 62.7% versus 19.6%.
Lucy Gibbs, managing consultant at Retail Insight, Capgemini, notes October marks another turning point in the turbulent retail calendar this year; online weekly sales growth eased off after summer, however, the final week jumped to 43% in anticipation of new lockdown measures.
"This time, the clothing category appears to be following the trend, also seeing the high weekly year-on-year uplift in the final week of October, with seasonal weather combined with outdoor meeting rules boosting demand.
"Although we have seen record-breaking online growth over the summer months, order volumes were still well below that seen by recent years during peak events such as Black Friday. As non-essential retailers close their doors for the second time, the stakes will be higher; an uplift on online sales orders in double digits on top peak demand will impact already stretched supply channels. Retailers can capitalise on learnings so far to reduce the pressure and reassure customers, however, a likely differentiator for success will be determined by service levels over the festive period. Will consumer expectations remain as forgiving on longer lead times as we approach Christmas? Or will this trigger a change in promotions and consumer behaviour to help spread the demand over the peak period?"