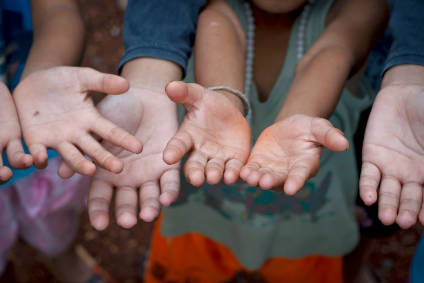 The UK has stepped up its commitment to combat forced labour and human trafficking at home and abroad, including in the garment industry, after pledging a GBP40m (US$53.7m) aid package aimed at tackling the problem.
International Development Secretary, Penny Mordaunt, made the pledge ahead of the International Day for the Abolition of Slavery (2 December). She says the fund will help over 500,000 vulnerable men, women and children globally, who have either survived modern slavery or are at risk of becoming victims.
"The continued trade in human beings is a global disgrace – and simply not enough is being done to tackle it," she said. "It is time to eradicate this shameful practice. Slavery, anywhere, must not be tolerated in the 21st century, and our work to stamp out this practice abroad will support our effort to end slavery in the UK. This is a long-term challenge and others must follow our lead.
"I met with victims of this horrendous crime during my time in Bangladesh who had been exploited and abused who we are now supporting, and it is absolutely right that we protect vulnerable men, women and children from being duped into imprisonment, domestic servitude and forced labour."
The support aims to address slavery and trafficking in countries with a high prevalence of these crimes in South Asia, and others such as Nigeria, which are also source countries for trafficking to the UK.
In particular, GBP13m will be used for the second phase of the International Labour Organization's (ILO) Work in Freedom programme, which is helping prevent trafficking and forced labour among women migrant workers from South Asia, which has the highest prevalence of forced labour globally.
This will focus on victims of forced domestic work and garment manufacturing, providing skills training to women before they move to a nearby country for work, supporting women at their destination so they can access help if they are exploited, and working with governments to improve laws and policies to protect vulnerable people from becoming victims of this crime.
The second phase of the programme follows an original GBP10.5m programme started in 2013 and due to finish in early 2018.
This latest support is part of the Prime Minister's global call to action at the recent United Nations General Assembly that urged world leaders to show they will not tolerate modern slavery, human trafficking and labour exploitation – with 40 countries now having joined this call to action. Theresa May also doubled the UK's aid commitment to tackling modern slavery.
It also follows the 2015 passing of the UK's Modern Slavery Act. which requires companies operating in the country with a turnover of at least GBP36m (US$52m) to produce an annual statement highlighting the steps taken to identify and prevent modern day slavery and human trafficking in every part of their organisation.
Since coming into force, a survey last year found it has led to increased engagement from directors on issues of risk within supply chains, and a greater focus on policy development, risk assessment and monitoring of modern slavery, according to a new survey.
As part of its pledge, a GBP20m contribution is being made to the Global Fund to End Modern Slavery, which will be used to target sectors with a high risk of slavery, like the garment sector, fisheries and construction, combating this crime by working with law enforcement, prevention and victim services and business.