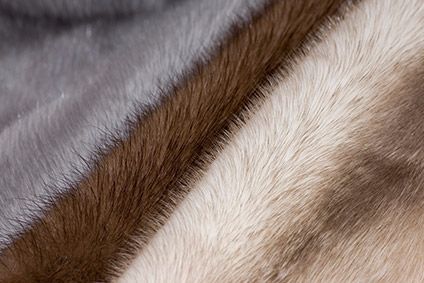 A number of British retailers, including TK Maxx, Boohoo and Amazon, have been found selling clothes and footwear containing real fur falsely advertised as fake fur, a new investigation has revealed.
Furs from fox, rabbit, chinchilla and mink have been found in items such as hats, shoes, scarves, and coats sold by retailers including Not on the High Street and Miss Bardo, an investigation by Sky News and Humane Society International (HSI) UK has found. The items were all advertised as containing faux fur.
Sky News says it has been working with the charity HSI to highlight mass-farmed foreign fur being mislabelled as "faux" in UK stores for eight months. A cross-party selection of MPs are now calling for a fur imports ban in the UK.
"The amount of fake faux fur online is truly shocking, with even trusted retailers mis-selling real animal fur as synthetic," says Claire Bass, executive director of HSI. "It is appalling that British shoppers, who are actively choosing not to buy real fur because of the terrible animal suffering, are being misled into buying the very same fur products they're trying to avoid.
"The combination of trusted brands, cheap prices, and items described as "faux" or "100% acrylic", means many people will be justifiably horrified to discover they've inadvertently bought animal fur. Consumers rightly expect brands to sell what they say they're selling, so urgent action is needed to stop this insidious creep of fur through the back door."
The investigation found fox fur in a coat from TK Maxx, labelled as faux fur. On its website, the retailer says: "We love clothes, but we don't sell fur. Since 2003 we have not sold real fur of any type in TK Maxx."
Other items included rabbit fur shoes and mink fur earrings sold on Boohoo, fox fur hats sold on Miss Bardo, rabbit fur children's shoes sold on Amazon, and mink fur earrings sold on Etsy. Rabbit fur keychains were also found to be sold on Groupon.
"We are very disappointed that on this occasion our high standards have been breached by the suppliers from who these items have been sourced. The items in question were immediately removed from sale and the breach of the policy and its standards is being investigated as a matter of urgency," Boohoo says.
The company adds: "At Boohoo we believe it's never right to cause harm or pain to animals during the making or testing of our products, which is why we take our Animal Welfare Policy seriously. We also believe we can give our customers the look of materials like fur, leather and suede by using the available faux alternatives. We are committed to working in this way, and give our suppliers clear standards with which to comply.
"We stand by our commitment to never use real fur in any Boohoo product. This commitment applies both to farmed fur and to fur which is a by-product of the meat industry. We will continue to monitor our process, ensuring all suppliers are compliant and are fully aware of our animal welfare policy. Suppliers are expected, as part of their due diligence procedures, to take all measures necessary to ensure that the boohoo Animal Welfare Policy is upheld. Any breach of the policy or its standards may result in our relationship with a supplier being reassessed or discontinued."
While a spokesperson for Amazon said: "All Marketplace sellers must follow our selling guidelines and those who don't will be subject to action including potential removal of their account. The products in question are no longer available."
The UK banned fur farming in 2000. According to HSI, there is no legal requirement to use the specific word "fur" on items containing real fur. EU regulations do require items defined as "textile products" to carry the wording "contains non-textile parts of animal origin" but as well as not clearly telling consumers it means "real animal fur", in practice this wording requirement is rarely adhered to at all, it says.
Products sold online are exempt from the wording requirement, and footwear or non-garment accessories such as handbags and keychains are also excluded.
HSI is campaigning for the British Government to make the UK a fur-free zone by extending the cat, dog and seal fur bans to include all fur-bearing species.
"As a member of the EU single market, under rules relating to free movement of goods the UK is not currently at liberty to ban the import of animal fur, which is farmed in several European countries. But Brexit could give the government the freedom to reflect the public's distaste for all fur and close our borders fully to this cruel and outdated trade," HSI says.
The remaining brands cited in the investigation did not return a request for comment at the time of going to press.