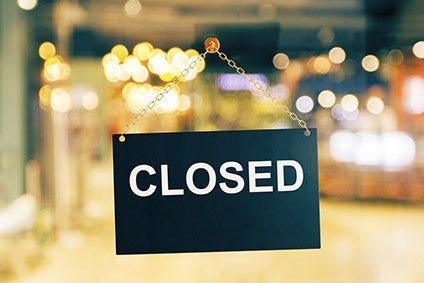 UK retail sales volumes fell by a record 18.1% in April – the first full month of lockdown – with the volume of clothing sales half that of the previous month.
Official data released today (22 May), shows the scale of the impact of store closures to try to halt the spread of the coronavirus. Compared with April last year, total sales volumes dropped 22.6%.
The Office for National Statistics (ONS) said the amount of clothing sold in April plummeted by 50.2% when compared with March, which had already fallen by 34.9% on the previous month.
The sharp decline in April "has resulted in the lowest levels seen in the volume of textile, clothing and footwear sales since the beginning of the series" in March 1988.
A staggering 27.6% of textile, clothing and footwear stores reported zero turnover in April.
The figures were even worse for department stores, where sales volumes were down 25.3% on the previous month, and 39.1% saw no sales at all.
Online continued to do well in April, with online shopping as a proportion of all retail reached a record high of 30.7%, the ONS said.
But even here clothing continued to decline, with online sales down 14.5% on the month before. However, clothing stores still reached a record proportion of online sales at 46.4% when compared with 26.6% in March 2020.
Industry paralysed
"Retail sales plummeted at a devastating pace as the impact of the lockdown paralysed the industry," notes Richard Lim, CEO at Retail Economics, an economics research consultancy.
"Clothing retailers were the hardest-hit as the absence of social interaction, whether that's going to work, seeing friends or heading off on holiday, decimated demand for new outfits.
"Consumers shifted their spending online by records amounts, benefiting those retailers with the slickest e-commerce operations and who managed to cope with the shift in demand. Online grocery retailers were one of the major beneficiaries as they worked at an incredible pace to boost capacity.
"As attentions turn to the impact of the easing of restrictions, there is still significant uncertainty over how consumers will react. They will likely remain anxious about shopping for discretionary items and there could be a significant gap between shoppers' expectations of the retail experience and the reality of browsing with social distancing measures in place.
"Being greeted with mask-wearing shop assistants, disinfecting shelves and guarding closed changing rooms could risk undermining the whole retail experience, further fuelling the shift to online."
Lee Lucas, principal and CEO of the Fashion Retail Academy, adds: "High street retailers have never experienced a fall in sales this dramatic before – but there is light at the end of the tunnel with the Government's announcement that non-essential retail stores can provisionally start to re-open in June.
"In fact, with summer holidays abroad not going ahead as planned, fashion retailers could be the unexpected winners from the biggest staycation the UK has ever seen.
"After months of lockdown, customers will be relishing the chance to enjoy familiar activities again and that will include putting a bit of retail therapy back in their lives.
"When shops closed in March, retailers did not know how long their doors would remain shut. The announcement that June could mark a turning point has given them a target to focus on and, more importantly, time to alter working practices to adhere to social distancing guidelines and ensure stores are operating with enhanced health and safety measures in place.
"Retailers who are proactive in advertising the ways they will be keeping staff and customers safe through new social distancing measures will reap the benefits when people can finally re-enter stores."