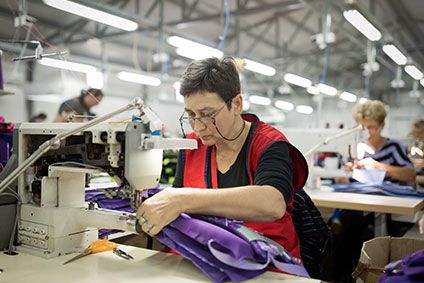 The UK Fashion and Textiles Association (UKFT) is introducing an initiative aimed at attracting new recruits into manufacturing roles as part of its efforts to promote the growth of the UK fashion supply chain.
UKFT Sew Connect aims to capture a renewed interest in sewing and help meet the growing demand for fashion and textiles made in the UK. The industry body has created social media pages on Facebook and Instagram to connect potential employees with employers.
Employers can make themselves known, advertise vacancies and highlight potential careers, while sewing machinists, or anyone interested in joining the sector, can follow the pages and highlight their experience, the job they would like to do and where they are from.
In the last few months there has been an increased response to the shortage of scrubs from the general public, with volunteers forming localised hubs across the UK and taking to their sewing machines to help the national interest.
The initiative comes at a time when the UK fashion and textile industry is struggling to attract new recruits into manufacturing roles, which is threatening the long-term growth of our sector.
"It has been incredible to see such a dramatic public response to the scrubs shortage," says Adam Mansell, CEO of UKFT. "We wanted to highlight vacancies to volunteers that might consider a career in our industry.
"The manufacture of fashion and textiles is growing steadily in the UK and companies across the UK are looking for skilled sewing machinists, garment makers and textile specialists. It would be great if we could help our manufacturing industry grow out of this crisis."
UKFT has partnered with The Scrub Hub for Southport and Ormskirk Hospital Trust and local manufacturers to create a UKFT Pop-Up Sewing Machinist Training School.
UKFT's skills and training manager Celia Thornley is currently volunteering her services to deliver a training course to volunteers giving them the knowledge and skills required to produce scrubs and masks to the required standard in the shortest possible time, using her years of experience of running a manufacturing business and as a skills consultant.
"The number of voluntary machinists that have come forward is amazing from experienced sample and production machinists to home sewers," she says. "Given our serious problem as an industry in sourcing skilled machinists and attracting new talent, hopefully, we can get something positive from this situation.
"But we need help from the industry. Can you as an employer, training provider or sector supporter sign up as a follower and post to the page? Even if at the moment you haven't got any vacancies – just let them know you are there with potential jobs in the future. We need to show these people the industry is alive and kicking."
In early March, the UKFT launched its Made It campaign to promote a better understanding of sourcing, production, and the benefits of UK manufacturing to the next generation of buyers, designers, and entrepreneurs.