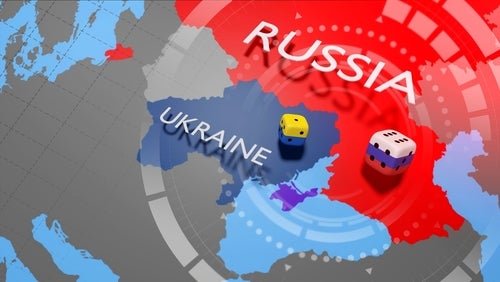 Twelve months on from the start of the Ukraine-Russia crisis and the global apparel industry has suffered both directly and indirectly as many brands closed their store networks in Russia and battled rising energy prices and raw material costs.
Along with macroeconomic volatility, the industry has had to deal with inflation and predictions of a looming recession, with supply chain challenges continuously unfolding.
This ever-changing situation has made it difficult for many operating within the apparel sector to predict how the year will unfold, but Louise Deglise-Favre, an associate analyst for apparel at GlobalData tells Just Style the impact of the war on brand performance is likely to be felt beyond 2023.
She explains: "The exit from Russia has had an undeniable impact on sales and profits for some apparel companies, such as Inditex, H&M and LPP as the country was an area of fast growth and high margin due to relatively low wages.
"While the impact of the exit was heavily felt for some in 2022, it will lessen in 2023 and beyond as these major apparel players have the resources to focus their efforts on building growth in other regions of the world such as the Middle East and Latin America."
Deglise-Favre continues: "However, the underlying impact of the conflict on consumer confidence and energy prices in Europe has been an insidious detrimental side effect to brands' performances throughout 2022 and is forecasted to continue in 2023."
At the close of 2022, Deepika Rana, chief operating officer at Li & Fung, told Just Style the tsunamis of overlapping economic and geo-political disasters, have made it "impossible to predict and react, and have shaken not only the foundations of retail profitability but also the foundations of the supply chain and are forcing us to rethink how we will rebuild for a sustainable future".
The McKinsey & Company's annual The State of Fashion 2023 report published with The Business of Fashion, warned the global fashion industry is headed for a global slowdown in 2023. It pointed to geopolitical tensions, specifically around the ongoing war in Ukraine, having disrupted supply chains and creating an energy crisis that 58% of executives believe will weaken the fashion market this year.
It added: "The war in Ukraine forced the re-routing of trade and triggered an energy crisis, while ageing port systems across the globe are creating transport bottlenecks. Global inflation has pushed up input costs — cotton and cashmere prices have increased 45% and 30% year on year in 2021 respectively — and extreme weather is hitting developing economies like Pakistan where, alongside the tragic loss of human life, as much as 45% of the country's cotton crops were wiped out by floods in August 2022."
When the war started in February 2022, Just Style created a timeline of how the crisis evolved and its initial impact on the global sector.