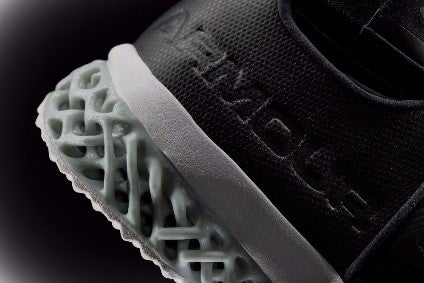 Embattled US sportswear brand Under Armour has partnered with EOS, a supplier of industrial 3D printing equipment, in a move aimed at boosting its 3D footwear business.
The strategic partnership will see the two companies work to develop advanced, scalable laser sintering 3D printing technology (SLS), a process that converts new powder materials into solid cross-sections, layer by layer, using a laser.
Under Armour will also collaborate with EOS' Additive Minds expert services to elevate its own 3D printing of textiles – also known as additive manufacturing (AM).
"With EOS' industry-leading laser sintering 3D printing technology, Under Armour can deliver shoes to the marketplace in a meaningful way, creating truly amazing, desirable products which solve our customers' needs in ways that could have never been imagined before. Together, our two organisations make a formidable pair," says Clay Dean, chief innovation officer at Under Armour.
Glynn Fletcher, president of EOS North America, adds: "The shoe fits; this partnership is set to achieve Under Armour's goal to industrialise and scale 3D printing of performance footwear. True additive manufacturing has come to Under Armour; no other athletic brand can make this statement."
The sportswear firm is currently in the midst of building what it calls a stronger and smarter business with faster go-to-market speed and greater digital capabilities.
As part of these plans it recently opened a dedicated global innovation hub for footwear design in Portland, Oregon, in a move it said will assist its most significant push in the footwear business to date, and yesterday outlined a number of strategic changes, including the appointment of a digital head, in a bid to drive alignment in its digital business.