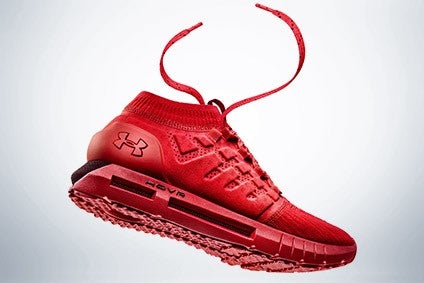 US sportswear brand Under Armour has developed a new footwear cushioning technology, designed to help runners to feel and perform better with less fatigue.
Unveiled yesterday (1 February), the UA HOVR platform is launching with two running styles – the UA HOVR Sonic and UA HOVR Phantom – and will continue to expand into other key footwear categories in the coming seasons.
The new cushioning system delivers on the need to have a shoe that provides not only a cushioned ride, but also energy return, the company says. Made of a proprietary foam compound developed in partnership with Dow Chemical, the midsole features a "super-soft" durometer with cushioning and shock absorption for every single foot strike.
Meanwhile, a key component of the UA HOVR cushioning system is the 'Energy Web': a mesh fabric that wraps the cushioning core to deliver strong responsiveness and energy return.
"The development of UA HOVR was inspired by the insight that every step a runner takes has the impact of two-to-four times their body weight, holding them down," explains Dave Dombrow, Under Armour's chief design officer. "We set out to create the perfect combination of cushioning plus responsiveness and energy return – to essentially lift you up."
The two styles will be available with a high fidelity sensor embedded in the shoe and digitally connected to the MapMyRun app so that detailed data – including shoe life – can be tracked.