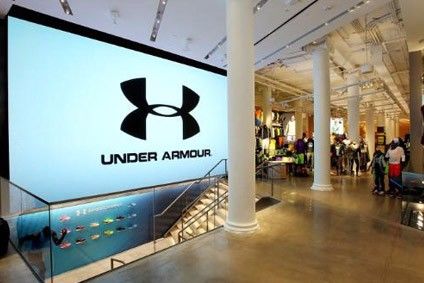 Under Armour is assessing the potential impact of the coronavirus outbreak on its supply chain as the US sportswear brand expects a hit of up to US$60m on first-quarter sales in the APAC region – and says it is looking at a potential 2020 restructuring plan.
Speaking to analysts on the firm's fourth-quarter earnings call yesterday (11 February), newly appointed CEO Patrik Frisk said that as the outbreak relates to potential operational and financial impacts, there are "several unknowns" the company is continuing to monitor and assess, not only for the APAC region but also on a global basis.
From a supply chain point of view, there could be challenges that develop from the material, factory and logistics perspective, he said.
"In materials, we're assessing possible impacts related to fabric trim and package sourcing and potential delays and capacity challenges that could prove to be difficult in the second half of the year. With respect to factories, we're continuing to see closures, changing timelines of when they might reopen, and trying to assess what it means for production fulfilment, capacity, and the prioritisation of which products to make.
"In logistics, we think it's reasonable to expect industry-wide delays in terms of delivery around the world, including potentially missed shipment and service windows and the need for increased air freight and additional measures at ports that could create unforeseen congestion."
Looking at how marketplace and consumption patterns could potentially play out is where it gets "even more unclear," he added, with possible levels of elevated inventories and promotional activities later in the year.
"In aggregate, we're evaluating each of these items individually and collectively to assess potential impacts and options to try to mitigate risks to the best extent possible.
"And only five weeks into this situation, one that is clearly not stabilised, we're electing to stay appropriately prudent and not prepared to quantify many of these elements today, as events could meaningfully evolve in the coming weeks."
Almost 600 Under Armour doors in China are currently closed with the business estimating a first-quarter revenue impact to the APAC region of about $50m to $60m.
Frisk noted the figure is "a little more than a point of growth for Under Armour globally this year."
He added given the "ongoing uncertainty" it is possible that the situation could have a significant material impact both financially and operationally on Under Armour's full-year but noted, "at this point, we're only contemplating a first-quarter APAC revenue impact."
Fourth-quarter & full-year results
Frisk's comments come amid a net loss of US$15.3m for the fourth quarter ended 31 December, compared to net income of $4.2m last year. Under Armour says its net loss was inclusive of a $23m tax expense, related to the recording of valuation allowances against certain of the company's US state deferred tax assets, and a $39m impairment charge, related to the company's equity interest investment in its Japan licensee.
Revenue, however, was up 4% to $1.44bn from $1.39bn a year ago. By region, sales in North America were up by 1.9% while those for EMEA increased 2.2%. For Asia Pacific, revenue rose by 9.8%, with sales in Latin America climbing 11.8% in the quarter.
Meanwhile, apparel sales edged up 0.2%, while footwear revenue increased by 10.3% and accessories by 1.6%.
Gross margin increased 230 basis points to 47.3% compared to the prior year driven primarily by pricing including lower discounts to the company's wholesale partners, channel mix and supply chain initiatives.
For the full year, net income amounted to $92m, compared to a net loss of $46.3m in 2018. Revenue was up 1% to $5.3bn, while gross margin was 46.9%, a 180-basis point improvement from 45.1% in the prior year.
The company's initial 2020 outlook expects revenue to be down at a low single-digit percent compared to 2019 results. This reflects a mid to high-single-digit percentage decline in North America as work continues to rebalance the business against market demand dynamics and pro-active strategies to better protect the company's premium brand positioning. The international business is expected to grow at a low double-digit percentage rate.
Diluted earnings per share is expected to be in the range of $0.10 to $0.13, inclusive of an estimated $0.01 to $0.02 negative impact from the company's equity interest in its Japan licensee, while gross margin is forecast to be up about 30 to 50 basis points versus the prior year due to ongoing supply chain initiatives and regional mix benefits.
"Under Armour is an operationally better company following our transformation over the past few years, with a clearly defined and focused strategy, enhanced go-to-market process, cleaner inventories and a stronger balance sheet," said Frisk in the firm's earnings statement. "However, ongoing demand challenges and the need to drive greater efficiencies in our business requires us to further prioritise our investments to put our company in the best position possible to achieve sustainable, profitable growth over the long-term."
Restructuring initiative
The company also announced it is assessing a potential 2020 restructuring initiative to rebalance its cost base to further improve profitability and cash flow generation.
The move could see the sportswear giant forgo opening a flagship store in New York City while pursuing sublet options for the long-term lease.
In connection with this potential plan, Under Armour is considering $325m-$425m in estimated pre-tax charges for 2020, including about $225m-$250m related to the possibility of foregoing the flagship store.
Based on initial assessments and timing of a potential restructuring initiative, the company says it could realise $30m to $50m in pre-tax benefits in 2020.
Under Armour expects to complete its assessment during the first quarter of 2020. The firm added its full-year outlook does not include any possible benefits or costs from a potential restructuring initiative.
Susan Anderson, analyst at B Riley, notes: "We continue to believe it will be difficult for Under Armour to meet topline guidance through quality growth given Under Armour's lack of premium positioning, space losses, lower off-price sales, and lower overall industry athletic growth.
"Bottom line may also be difficult to meet if they are not able to go through with their restructuring plan. Overall, slowing international sales, declining direct to consumer (DTC), restructuring plans, competitive athleticwear environment, and overly optimistic sales goals will make it difficult for Under Armour to meet their already lowered FY20 expectations."
Shares in the company were down by 18.88% at the time of writing.
Under Armour is the latest to warn on the impact of the coronavirus outbreak, following similar updates from a number of retailers, including most recently Tapestry and Capri Holdings, owner of the Michael Kors and Jimmy Choo brands.
Click here for additional insight on the coronavirus outbreak: Is coronavirus a threat to the clothing industry?