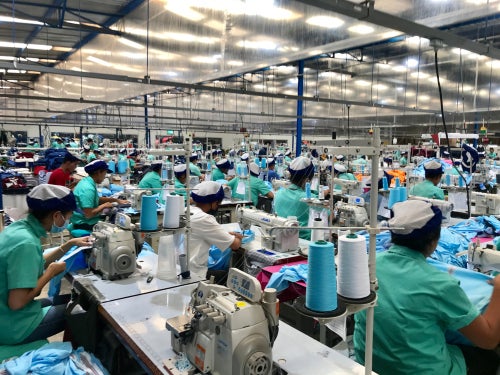 Suppression of freedom of association amid a trade union crackdown has caused a spike in labour abuses, including gender-based violence and harassment of garment workers, a report by the Business & Human Rights Resource Centre (BHRRC) has found.
"Freedom to negotiate has been lost and collective bargaining with the factories has completely stalled as factories have used Covid as a tool to avoid negotiating with the union," said Yang Sophorn, president of the Cambodian Alliance of Trade Unions (CATU) in Cambodia.
The Business & Human Rights Resource Centre interviewed 24 trade union leaders and surveyed 124 union activists and labour advocates in Bangladesh, Cambodia, India, Indonesia and Sri Lanka, with nearly two thirds (61%) of survey respondents reporting the situation for freedom of association and collective bargaining for garment workers has 'gotten worse' since the pandemic. Almost half (48%) of respondents revealed an increase in discrimination, intimidation, threats and harassment of trade union members.
The factories in the report supply, or have recently supplied, at least 15 global fashion brands and retailers, including Adidas, Asda, Benetton Group, Bestseller, C&A, Sainsbury's, Etam, H&M, Hugo Boss, J.Crew, OVS SpA, Mango, Next, Primark and Under Armour.
Despite making policy commitments to support freedom of association for workers across their supply chains, with some even signing Global Framework Agreements with union federations, the report says there remains a huge gap between policy and practice. This has left many fashion brands "complicit in restrictions on freedom of association and resulting abuses", it adds.
Abuses reported include:
Almost a third (30%) of survey respondents reported an increase in gender-based violence and harassment as a result of the restrictions on trade union rights.
An increase in wage and severance theft as a result of trade union restrictions was reported by over half (58%) of survey respondents.
Over a quarter (27%) reported an increase in violence against trade union leaders.
"The increased and ongoing suppression of trade union and collective bargaining rights since the pandemic is of major concern," says Natalie Swan, labour rights project manager, Business & Human Rights Resource Centre. "With a global economic crisis just around the corner there is a risk the suppression of trade union activities and silencing of union leaders will continue, increasing the devastating knock-on effect on other labour rights protections in factories, and ultimately increasing exploitation of garment workers.
"Without the ability to organise and call for decent work and a living wage, workers are unable to improve working conditions or protect themselves from abuse. We have seen an increase in wage and severance theft, worsening health and safety standards, increased gender discrimination and concerning levels of gender-based violence and harassment. These abuses were heightened during the pandemic and this hostility towards unions in garment supply chains could be at serious risk of long-term entrenchment with the bleak economic outlook."
Anton Marcus, joint secretary of The Free Trade Zones and General Services Employees Union (FTZ&GSEU) in Sri Lanka, said in the report: "Straight after Covid we are now in an economic crisis, we don't even have electricity during blackouts and inflation for food is over 50%. The workers are struggling to survive, they don't have time to engage with trade union activities. When we call training programs and meetings, attendance is very poor. They are too busy in the queue at the petrol station to get fuel. It's having a very bad impact on trade unions."
Summary of recommendations
Governments of brand headquarter countries: Enact legislation requiring companies to undertake comprehensive human rights due diligence throughout their operations and supply chains, including around sourcing and buying practices. Embed labour provisions in trade agreements and support producer countries to develop more worker-centric legal frameworks.
Governments of producer countries: Commit to a regulatory environment which both protects and encourages freedom of association and improved conditions for workers, and ensure this framework is supported by well-resourced enforcement mechanisms.
Brands and retailers: Undertake due diligence across supply chains to ensure workers are guaranteed their freedom of association rights, with access to remedy provided for violations of these and related rights.
Build constructive relationships with relevant global union federations and work with suppliers to ensure the same level of dialogue with trade unions at a local level, including a commitment to fair purchasing practices that create an enabling environment for substantive collective bargaining.
Ensure visibility over and transparency of supplier factories, including through published audits conducted through gender-sensitive worker engagement.
"Brands have the power and leverage to make a difference," says Swan. "It's time they realise the repression of freedom of association is closely associated with increased labour abuse and exploitation – which is a bad look for their business. Alongside engaging closely with unions and worker groups to conduct meaningful due diligence, brands must also actively work with their suppliers to highlight the importance of enabling workers' ability to freely organise. Without urgent brand action, these lower labour rights standards could become the new norm, rolling back decades of work championed by labour rights activists."
Brand responses
Several of the brands responded to the BHRRC report and their responses can be found here. Just Style reached out to some of the brands mentioned who provided further detail.
OVS:
"Freedom of association is with no doubt one of our priorities -as it is the main lever of change in the collaboration with our suppliers. Considering the recent facts we deeply analysed the situation and we are preparing a specific program for Crossline Factory to remediate the reported issues. In the meantime, we haven't placed any new orders with this supplier."
Primark:
"These claims are very concerning. It is extremely important to us that the rights and safety of the people who make our clothes are respected in the workplace. Ensuring freedom of association and the safety of workers are among the cornerstones of our Code of Conduct, a condition of doing business with us. Compliance with these standards is monitored by our team of 130 experts on the ground in our sourcing markets, alongside our third-party auditing partners.
"We investigate every issue brought to our attention about Primark-approved factories and all efforts are made to resolve where possible. We have no connection to the factories listed in the report, however we are in contact with relevant parties regarding these claims and will investigate these as a matter of priority as soon as we have further detail.
"Should our investigations uncover any failure to comply with our Code of Conduct, our Ethical Trade team will work with the suppliers and factories to agree an immediate corrective action plan."
Adidas:
"We reject the allegations. Throughout the pandemic, Adidas has been committed to fair labour practices, fair wages and safe working conditions throughout its global supply chain. We continued to source from our partners and committed to paying all orders, whether they were completed or in process. We continued to ensure legal compliance in terms of pay and benefits for all workers and tracked the working conditions in each and every factory."
Sainsbury's:
"We take our responsibilities as a retailer very seriously and believe we can play an important role in addressing and improving standards in supply chains. All our suppliers have to meet our high ethical and welfare standards and we take allegations of this nature extremely seriously.
"We are in contact with the Garment Labour Union of India to understand these claims further and based on that information will seek to develop an approach to resolving them."
Asda:
"We have a clear policy for suppliers to follow which explains our standards and expectations that rights of all workers are to be respected. We have long-standing relationships with our garment suppliers in these regions of India and we will work with them and the BHHRC to investigate any claims within this report relating to
factories which supply George clothing and will take any breaches of our policy extremely seriously."
Bestseller:
"We welcome this report and take its findings seriously. Freedom of Association is a fundamental right, and failure to respect it is a zero-tolerance issue for our business partners. At Bestseller, we have a responsibility to use our leverage to promote and protect labour rights and the dignity of those who work in our supply chain. We are committed to working together with all stakeholders to learn from the experience of the pandemic and chart a course towards a brighter future under collective actions to promote and protect human rights and hope our business partners and peers use this report as a learning tool."