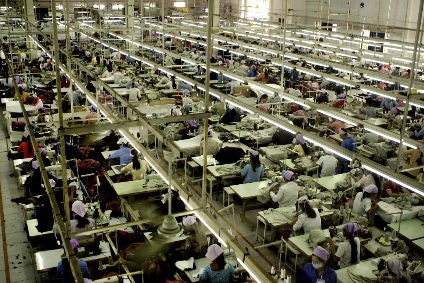 Workers from three former supplier factories in Cambodia, Turkey and Indonesia that produced clothes for retailers including M&S, Next and Uniqlo are calling for the settlement of severance pay and final salaries, with global protests planned over the next week.
Between 2012 and 2016, the Chung Fai factory in Cambodia, Bravo factory in Turkey, and PT PDK and Jaba Garmindo factories in Indonesia closed, leaving employees without work or back wages and severance payments, according to labour rights groups Labour Behind the Label and Clean Clothes Campaign.
The Phnom Penh-based Chung Fai Knitwear Factory closed in July 2016 following bankruptcy a month earlier. Protests followed over unpaid wages, with workers claiming US$550,000 was needed to cover their final month's salaries and lawful severance pay.
Workers collected garments with labels carrying the names of M&S, Bonmarché and Canadian brand Nygård. M&S previously said it had never authorised the factory to make its products. Bonmarché also initially denied contractual relationships with Chung Fai, but is understood to have later admitted its clothing could have been made at the factory and communicated with its official supplier that no future orders would take place until the case was resolved. Nygård, meanwhile, has denied any involvement.
The labour groups say these factory closures were often preceded by major buyers cutting off orders, without warning or explanation to the workforce, most of them women. "The consequences for the workers and their families have been dire.
"Each of the brands involved, despite collectively earning billions in annual profit, are refusing to pay the workers from these factories their back wages and severance – money they earned over many years of working hard and long hours to produce clothes for these brands," the labour groups says. "Labour Behind the Label and the Clean Clothes Campaign believe that to deny these workers their payment is tantamount to wage theft, and call on all the brands involved to ensure these workers receive what they are owed."
Activists and workers are planning to join protests from 14 to 20 December calling on the brands to "end wage theft." Message drops and protest actions will take place in nine countries including Indonesia, Japan, Turkey, Germany, the UK, Switzerland, the Netherlands, Canada and Hong Kong.
Sudden and unexpected factory closures are a growing trend in the global garment industry. A particular challenge for workers is when factories go bankrupt following the withdrawal of orders from major brands, since few countries have legal processes that prioritise debts to workers over other creditors, or legal systems that recently unemployed workers are able to readily access, the labour groups explain.
However, there have been instances where placing pressure on brands has proved successful.
In late 2012, nearly 200 garment workers at the shuttered Kingsland factory in Cambodia staged a month-long vigil and protest camp in front of the factory to prevent its assets from being stripped. This resulted in a historic settlement with Walmart and H&M in March 2013.
Similarly, adidas agreed in 2014 to compensate 2,800 Indonesian garment workers who were owed US$1.8m in severance pay following the closure of sportswear factory PT Kizone in Indonesia. adidas is now understood to be involved in the PT PDK factory closure case.