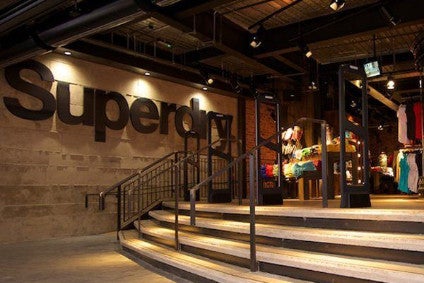 Superdry has reported a "subdued" performance in the third quarter as unseasonably warm weather continued to dampen sales at the UK clothing retailer, which specialises in cold weather-related products.
In its third-quarter trading statement, the company said for the 13 weeks ended 26 January, global brand revenue increased 5.4% to GBP479.6m (US$618.9m), compared to GBP454.9m in the year-ago period. Group revenue, meanwhile, slipped 1.5% to GBP269.3m, impacted by subdued store and e-commerce sales driven by ongoing legacy product issues and continued unseasonably warm weather throughout the quarter.
Wholesale revenue continued to grow, up by 12.7% in the period, while e-commerce sales fell by 0.7%, further impacted by a lower number of owned site promotions in some territories. Store sales were down by 8.5% on last year.
"Superdry's performance has remained subdued during quarter three. We continued to be impacted by the ongoing product mix and relevance issues we have previously highlighted and by the lack, until the end of quarter three and the start of quarter four, of any prolonged period of cold weather in our key markets," says CEO Euan Sutherland.
"We are pleased with the early progress being made with our transformation programme, designed to reset the business and deliver a return to higher levels of growth and profitability."
Amy Higginbotham, retail analyst at GlobalData, says Superdry is struggling to keep its head above water in the competitive clothing market.
"The decline in e-commerce revenue is especially worrying for Superdry, given that spend continues to shift online as competition from young fashion online pureplays intensifies – both ASOS and Boohoo.com stock own-brand sportswear and athleisure ranges at competitive prices," she adds. "Superdry is also facing competition from Shop Direct, which offers a wide range of branded sportswear and reported strong Christmas sales driven by a 33% uptick in sportswear sales at Very. Superdry did not refer to Christmas trading at all in its update, putting a question mark over its performance."
In addition, both Superdry and Sports Direct struggle to compete with JD Sports' strong multibrand proposition, which includes product exclusives from brands such as NIKE, Higginbotham says.
"JD Sports' diverse product offer means it has been more resilient to the unseasonably warm weather that has dampened sales at Superdry, proving that the latter remains too reliant on core winter product categories such as outerwear to drive sales. The retailer insists that the early results of its diversification and innovation programme launched in summer 2018 will be seen at the end of 2019, in the hope that a more varied product range will help turn around the sales decline seen so far in FY2018/19."
Superdry recently responded to the lack of product creativity that founder Julian Dunkerton blames for the poor performance, by appointing Phil Dickinson, former Nike and Umbro executive, as creative director.
But there is likely to be more disruption from Dunkerton, Higginbotham says, as he pushes for investors to vote on his reinstatement to try to turn the retailer's fortunes around.