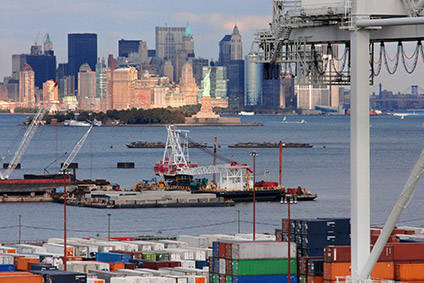 American Apparel & Footwear Association (AAFA) president and CEO Steve Lamar has sent a letter to US Trade Representative (USTR) Ambassador Katherine Tai requesting relief from the Section 301 tariffs that are remnants of the Trump administration's trade war.
The body says the tariffs are directly threatening the survival of thousands of businesses that are facing unprecedented shipping disruption.
"Out of control freight rates and historic log jams at US ports are creating delays and costs that are wreaking havoc on supply chains," wrote Lamar. "Every American company, whether engaged directly in international trade or an indirect beneficiary of international trade, is impacted by the chaos and cost increases caused by the shipping crisis."
He adds: This holiday season – what should be a time of great celebration – will be marred by empty store shelves, inflation and lost US jobs. And the interconnected value chains in our economy mean that this pain will be widely felt as companies and communities who thought they were insulated become increasingly exposed to these damages."
AAFA is calling on USTR to use its authority to provide immediate and short-term relief by retroactively reinstating Section 301 exclusions that have expired and suspending the collection of Section 301 tariffs going forward. According to AAFA, the millions of dollars made available by these actions would help those companies that are hardest hit by the shipping crisis and alleviate the shortage in truck chassis, caused in part by the Section 301 tariffs imposed on imported chassis.
"Quick action by the administration can help stabilise and begin to roll back this crisis. We implore you to use the tools at your disposal to provide the kind of immediate and short-term relief that companies need today to survive this existential threat. We urge you to retroactively reinstate the expired Section 301 tariff exclusions. Further, we urge you to suspend the application of all Section 301 tariffs going forward. Combined, these actions would immediately make millions of dollars available to companies that are hardest hit by the shipping crisis."
Lamar continues: "While these actions won't expedite goods through our troubled port infrastructure – for that we need quick and decisive action by other government agencies – it will free up resources companies need today to manage the historic freight costs and other transportation surcharges they are now experiencing. This relief will be a crucial lifeline, keeping companies in operation and employing US workers while we also work to ease port traffic and address other supply chain challenges."
Lamar's correspondence follows a letter sent to President Biden earlier this week regarding the shipping crisis in which Lamar urged the President to take action to bring an end to the situation which he noted is already leading to higher prices, rotting produce, manufacturing shutdowns, and empty store shelves.
The AAFA also wrote to the President in July to share its concerns about the effects of the shipping crisis and rising inflation on the US apparel and textile industry.
Earlier this week, the AAFA applauded Biden's promise to double US donation of Covid-19 vaccines and calls to support hard-hit Vietnam and Bangladesh.