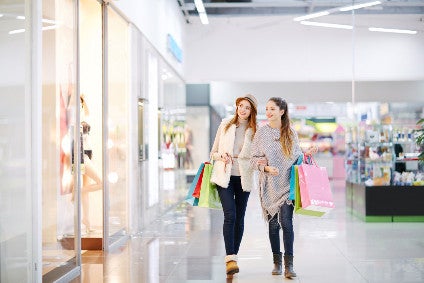 August proved another mainly positive month for the handful of US apparel retailers still reporting their monthly comparable sales, yet growth slowed as retailers faced significantly steeper expectations this month, making upside surprises more unlikely.
According to research firm Retail Metrics, total August same-store sales for retailers came in at 6.2% against a positive economic backdrop. This was up from 4.3% a year ago and compares to a 7.5% increase in July and an 8.9% gain in June.
Retail Metrics president Ken Perkins said a strong job market, modest wage gains, and near-record consumer confidence have generated robust consumer spending throughout much of this year. Back-to-school selling, meanwhile, looked to be a net positive for retailers with solid traffic and conversion.
However, while retailers – temporarily, at least – seem to have got their mojo back, it's a tough road ahead as monthly comparisons are tipped to grow increasingly more cumbersome as the year progresses with 5.3% in September, 5% in October, 6.2% in November, and 8% in December.
Winners and losers
All but one of the apparel retailers still reporting monthly comparable store sales booked increases in August, with one returning to its negative trajectory.
This was Nebraska-based denim specialist The Buckle, which turned in a tough August with same-store sales falling 0.7% at a time when most of retail has been comping positive, missing Retail Metrics' consensus estimate by 270 basis points. Last month's 2.3% increase was just the teen apparel chain's third positive comp in the past 37 months. Net sales also declined, slipping 6.3% to US$75.2m from $80.3m last year.
Meanwhile, value-priced fashion and accessories retailer Cato Corporation reported a 5% rise in August comps, exceeding Retail Metrics' 2% consensus. The increase marks the fifth time in the last six months that the Charlotte, North Carolina based retailer reported either a flat or positive comp following a string of 24 consecutive negative monthly comps. Total company August sales were flat at $56.4m from $56.2m last year.
CEO John Cato said: "August same-store sales exceeded our expectations. However, same-store sales in August were positively impacted by Hurricane Harvey last year which caused store closures and business disruption."
L Brands, owner of the Victoria's Secret, Pink and La Senza brands, turned in a modestly better than expected 1% August comp rise versus Retail Metrics' consensus 0.3% estimate. This was the Columbus-based chain's fifth positive surprise in the last six months. Net sales totalled $856.3m for the four weeks ended 1 September 2018, compared to net sales of $842.1m for the four weeks ended 26 August 2017.
Speciality apparel and footwear retailer Zumiez, meanwhile, booked a 9.5% comp sales rise despite being up against a difficult 7.4% year-ago comparison. The Seattle-based chain has only missed monthly same-store sales expectations once in the last 16 months. Total revenues for the month surged 9% to $107.4m, compared to $98.6m last year.