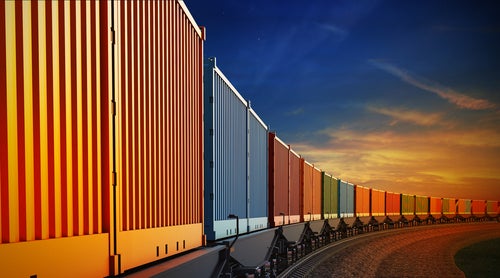 On Wednesday (14 September) night, a tentative agreement was reached between US freight railroads and rail labor organisations  – avoiding a shutdown of the nation's freight rail system – which would have put severe pressure on the apparel supply chain.
It came after the apparel sector urged US congress to use its authority to bring ongoing rail transport labour contract negotiations to a successful conclusion this month and asked the Federal Maritime Commission to issue an emergency order to address congestion in the carriage of goods ahead of apparel's busy holiday season.
American Apparel & Footwear Association president and CEO, Steve Lamar, offered cautious words of praise: "We applaud the Biden administration and members of Congress for intervening on behalf of complex and critical supply chains that depend on the rail system, and for establishing the additional cooling off period while rank-and-file considers the deal.
"If a deal is not completed in full, the 25% of apparel and footwear that typically touches the rail lines would immediately get stuck and threaten the busy fall shopping season. Trucking demand would skyrocket amid a very real truck driver and chassis shortage and delivery of all additional consumer products would suffer from the ripple effects. Our industry, consumers, and the economy (at the cost of an estimated US$2bn per day) would suffer. At the same time, we continue to urge the speedy conclusion of the parallel labour negotiations at the West Coast Ports – now in their fourth month – to make sure that we can avoid similarly brinksmanship in the future."
AAFA continues to monitor the evolving negotiations closely and will be ready to push Congress to act as the rank-and-file members vote on the tentative deal.