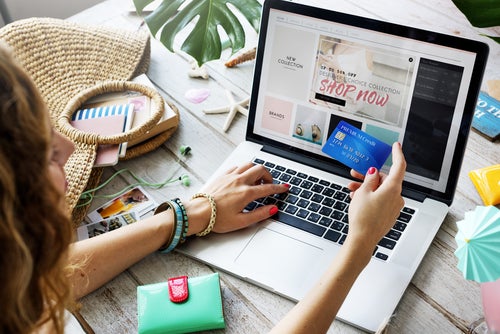 The Integrity, Notification, and Fairness in Online Retail Marketplaces (INFORM) Consumers Act (INFORM) legislation was introduced in October last year. It aims to increase online marketplace transparency and accountability to combat what is being described as the rapidly growing problem of fakes and stolen goods sold through these channels.
"The INFORM Consumers Act will help deter illicit actors from targeted criminal activity and offloading stolen and counterfeit goods across online marketplaces to unsuspecting consumers," said Steve Lamar, AAFA president and CEO.
"Online marketplaces offer criminal actors anonymity; INFORM now requires information verification for high-volume third-party sellers to help law enforcement and brands with prosecution efforts. More information about goods purchased online is a step in the right direction for consumers.
"We thank Representatives Jan Schakowsky and Gus Bilirakis, and Senators Bill Cassidy and Dick Durbin, for leading passage of this important legislation. However, our work is not done; a companion measure — the Shop Safe Act — was excluded from the final omnibus package. Shop Safe includes must-have proactive measures to prevent illicit and counterfeit goods from being listed on platforms. Furthermore, Shop Safe holds platforms liable for selling counterfeit and illicit products that harm consumers. We must bring the same alignment and accountability consumers expect and receive when shopping in brick-and-mortar stores to online commerce."
Shop Safe and INFORM work together to set clear, actionable requirements, and accountability, for platforms to tackle counterfeits and provide critical information to consumers. The Shop Safe Act requires online platforms to pro-actively screen for illicit or counterfeit goods and provide more transparency to consumers about third-party sellers while imposing liability on online platforms for selling dangerous counterfeit or illicit products. Meanwhile, INFORM better equips law enforcement officials to go after organised theft rings that have made a business out of selling stolen and counterfeit goods online. INFORM will also help reduce organised retail crime, which will help protect small and large businesses in communities and retail workers.
Early last year (2022), AAFA released the results of a study conducted with quality assurance provider Intertek to test counterfeit products for a range of hazardous chemicals and heavy metals. The study found that 36.2% of the products tested failed to comply with US product safety standards, including dangerous levels of arsenic, cadmium, phthalates, lead, and more that have been shown to cause adverse health outcomes.
In October 2022, AAFA quantified the current online counterfeiting problem and detailed the costs to members in navigating the current status quo in AAFA's submission for the 2022 Special 301 Out-of-Cycle Review of Notorious Markets with the Office of the United States Trade Representative (USTR). AAFA's comments illustrate how bilateral conversations with platforms and the burden of information required by brands per reporting tool does not solve the problem.