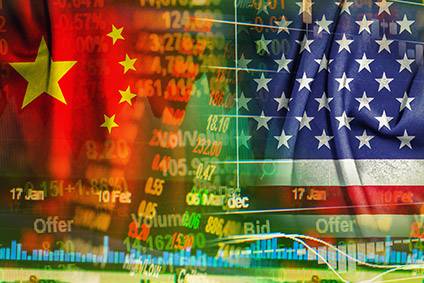 The United States says it has made progress in ongoing trade talks with China, but acknowledged "much work remains" as the two parties are set to continue their discussions in Washington this week.
US officials travelled to Beijing last week at the direction of President Donald Trump to continue negotiations on the trade relationship between the two countries. The two sides are working to avoid a scheduled 1 March increase in US tariffs on US$200bn worth of imports from China from 10% to 25%.
The talks were led by US Trade Representative (USTR) Robert Lighthizer, secretary of the Treasury, Steven Mnuchin, and vice Premier Liu He. On Friday (15 February), both delegations had the opportunity to meet with Chinese President Xi Jinping.
During the talks, the United States delegation focused on structural issues, including forced technology transfer, intellectual property rights, cyber theft, agriculture, services, non-tariff barriers and currency. The two sides also discussed China's purchases of US goods and services intended to reduce the United States' "large and persistent" bilateral trade deficit with China.
While details of the talks are scant, a statement from the White House said: "These detailed and intensive discussions led to progress between the two parties. Much work remains, however. Both sides will continue working on all outstanding issues in advance of the 1 March 2019, deadline for an increase in the 10% tariff on certain imported Chinese goods."
It added both US and Chinese officials have agreed that any commitments will be stated in a Memoranda of Understanding between the two countries.
President Trump took to Twitter on Saturday afternoon, tweeting the safe return of the US negotiators and hailing the meetings as "very productive."
Trade negotiators have just returned from China where the meetings on Trade were very productive. Now at meetings with me at Mar-a-Lago giving the details. In the meantime, Billions of Dollars are being paid to the United States by China in the form of Trade Tariffs!

— Donald J. Trump (@realDonaldTrump) February 17, 2019
He followed with a second tweet a day later, noting important meetings and calls regarding a China Trade Deal were on the agenda.
Important meetings and calls on China Trade Deal, and more, today with my staff. Big progress being made on soooo many different fronts! Our Country has such fantastic potential for future growth and greatness on an even higher level!

— Donald J. Trump (@realDonaldTrump) February 17, 2019
Meanwhile, President Xi Jinping is understood to have said the consultations between the two teams have made "important step-by-step progress," according to China's official news agency Xinhua.