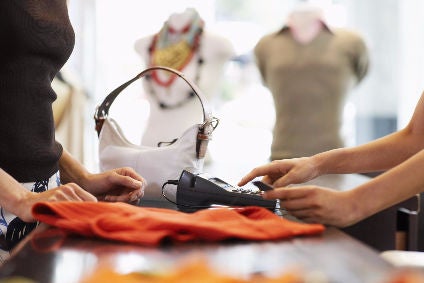 US retail sales dropped almost twice as much during April as they did in March as the nation's economy saw its first full month when most businesses were closed because of Covid-19, with clothing retailers particularly hard hit.
Sales at clothing stores in April plummeted by more three-quarters from March as most businesses not considered essential were closed temporarily.
Overall retail sales during April were down 16.4% seasonally adjusted from March and down 21.6% unadjusted year-over-year, according to the US Census Bureau. That follows a record-setting 8.3% month-over-month drop in March.
The fall came amid government-mandated lockdowns to stem the spread of coronavirus, which shut down all non-essential retail locations.
Ken Perkins, president of research firm Retail Metrics, says: "Virtually all mall-based retail was shuttered from mid-March through early May, leaving only e-commerce operations and limited curbside pickup available."
Sales at non-store retailers were up 21.6% on April 2019, according to Census Bureau data, with Perkins noting Covid-19 has essentially "added lighter fluid to an already established trend."
While essential retail categories such as food and beverage posted gains alongside home improvement and garden, apparel experienced what Perkins calls a "mind-boggling" 89% year-on-year decline as stores closed and clothing purchases took a back seat to paying the rent/mortgage and for food.
The National Retail Federation's (NRF) calculation of retail sales – which excludes automobile dealers, gasoline stations and restaurants in order to focus on core retail –showed April was down 14.1% seasonally adjusted from March and down 8.7% unadjusted year-over-year. The difference between the Census Bureau and NRF numbers is because the categories NRF excludes saw some of the biggest hits.
Clothing stores saw the biggest decline among categories counted by both NRF and the Census Bureau, with sales down 89.3% unadjusted year-over-year and down 78.8% month-over-month seasonally adjusted.
NRF's figures also show sales at sporting goods stores were down 48.7% unadjusted year-over-year and down 38% month-over-month seasonally adjusted.
Meanwhile, with more people turning to e-commerce, online and other non-store sales were up 21.2% unadjusted year-over-year and up 8.4% month-over-month seasonally adjusted.
NRF chief economist Jack Kleinhenz cautions that the reliability of April's numbers could be questionable because many retailers whose businesses were closed were not in their offices to respond to the Census Bureau's monthly survey of sales data. In addition, the unprecedented economic situation makes it difficult to seasonally adjust the data for the fluctuations in sales that normally come in predictable cycles throughout the year, he says.
The Census Bureau notes it has monitored response and data quality and determined estimates meet publication standards.
"As predicted, retail sales were bad in April and lower than in March," Kleinhenz says. "This should come as no surprise since April was the first full month when most businesses not considered essential were closed, both in retail and across the economy. But month-to-month comparisons provide little insight other than indicating that most of the economy was on lockdown. Now that we're in mid-May, many businesses are already starting to reopen. Relief payments and pent-up demand should provide some degree of post-shutdown rebound, but spending will be far from normal and may be choppy going forward.
"I'm still of the opinion that we went into this with the economy on a sound footing and that we will hopefully come out of it the same. But we're going to need more data to tell us whether the underpinnings of the economy have been damaged and how badly. We need to carefully watch the data and learn to understand what it is telling us."
A "dire" set of numbers
Neil Saunders, managing director of GlobalData Retail, notes essentially, April was the month when large parts of the retail economy simply ground to a halt.
"Apparel was the worst affected sector, with sales at clothing stores falling by 89.3%. To put this in context, in April 2019 it took clothing retailers just three days to generate as much revenue as they did across the whole of April 2020."
The shutdown of most physical apparel stores, plus the sharp decline in outfits needed for work and leisure contributed to the precipitous drop, Saunders adds, noting while there were a few bright spots, most notably from athleisure and comfort clothing, consumers "simply turned their backs on fashion in April."
He concludes: "Overall this is a dire set of numbers. However, the good news is that April is likely the trough – the lowest point of decline. May is the month when retail has started to reopen, and consumers have come back out to shop. However, the pace of opening is slow, and many shoppers remain in financial distress. As such, May will not be a month of celebration. Nor will June. Nor July. Nor probably the rest of this year. Retail's recovery will be slow and, in our view, it won't be until 2021 before trade starts to return to more normal patterns."