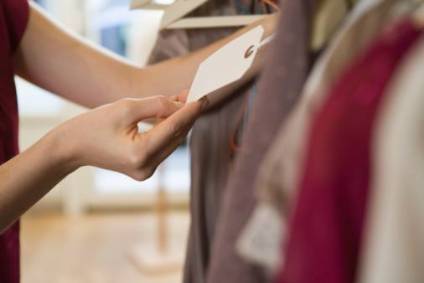 Sales at US clothing retailers almost tripled in May from the month prior as businesses closed by the coronavirus pandemic began to reopen but remained well below spending levels seen during the same period a year ago.
Sales at clothing stores in May were up an unheard-of 188% from April but were down 63.3% unadjusted year-over-year.
Overall retail sales during the month were up 17.7% seasonally adjusted from April but were down 6.1% year-over-year, according to the US Census Bureau. That follows a record-setting 14.7% month-over-month drop in April.
"A combination of pent up demand/cabin fever coupled with stimulus checks and store re-openings fuelled much better than expected May results," Ken Perkins, president of research firm Retail Metrics, says.
He notes, however, May bounced off "an absolute bottom" and were down 6.1% year-over-year, which is the second-largest amount since the Great Recession. "With unemployment still up in the low teen's, retailers still have a long road out of the woods."
Turning to apparel sales, Perkins adds revenues bounced back sharply month-on-month but notes on a year-on-year basis, "the picture is not at all rosy."
"Apparel retailers racked up the largest year-over-year sales decline of any segment" – Ken Perkins
"Apparel sales plummeted almost 64% year-over-year after tumbling 75% year-over-year in April and 50% in March. These represent massive sales declines for what was an already struggling segment prior to the pandemic. Apparel retailers racked up the largest year-over-year sales decline of any segment."
The National Retail Federation's (NRF) calculation of retail sales – which excludes automobile dealers, gasoline stations and restaurants in order to focus on core retail – showed May was up 11% seasonally adjusted from April and up 1.7% unadjusted year-over-year. The difference between the Census Bureau and NRF numbers is because the categories NRF excludes were among those most affected by the shutdowns.
Every category of retail saw month-over-month gains with sales at sporting goods stores up 88.2% month-over-month seasonally adjusted but down 6% unadjusted year-over-year.
Online and other non-store sales were up 9% month-over-month seasonally adjusted and up 25.3% unadjusted year-over-year.
NRF chief economist Jack Kleinhenz cautions that the reliability of May's numbers could be questionable because stores in many areas remained closed and retailers were not in their offices to respond to the Census Bureau's monthly survey of sales data.
The Census Bureau notes it has monitored response and data quality and determined estimates meet publication standards.
"Comparisons against April have to be taken in context" – Jack Kleinhenz
"The economy kicked off in May as retailers and other businesses reopened and both stimulus money and supplemental unemployment checks fuelled spending driven by pent-up demand from two months of shutdowns," Kleinhenz says. "But full recovery is still a long way off. Comparisons against April have to be taken in context because April was a full month when almost everything that wasn't deemed 'essential' was shut down. Spending has improved considerably but it's still far below where it was a year ago, and while the freefall in consumer confidence is over, unemployment remains high and confidence is still at recession levels."
He adds going forward, wallets are primed, increased foot traffic shows that consumers are returning to stores, and retailers are ready to meet their demand, but "we are likely to remain on a roller coaster for a while."
"What we need to look at is the trajectory of employment and the direction of the virus. There's hope for a turnaround in the economy in the third quarter but if the virus has a reawakening, we're going to see some serious situations for consumers."
Three notes of caution
Neil Saunders, managing director of GlobalData Retail, notes on an underlying basis, the performance of individual sectors "varies enormously."
"Sales from physical clothing stores have cratered and are down by over 63% compared to last year. Of course, many shops were closed for most of May which explains much of the decline. However, our data show that even where stores have reopened trade is building slowly and that consumers are reluctant to purchase. Extensive discounting, designed to clear down inventory, has also dampened sales values."
He adds from a channel perspective, this was another good month for non-store and online retail, with sales rising by 25% over May of last year. "However, it is notable that non-store retail accounts for a smaller proportion of overall sales this month (16.4%) compared to April (18.4%). This underlines our view that while digital sales have been elevated by this crisis, the proportion of trade taken by online during the period when most non-essential shops were shut will not be sustained as the retail economy starts to reopen."
Looking ahead, Saunders says the numbers point to a fast recovery for retail but sounds three notes of caution.
"The first is that this better performance has been aided by the benefits and stimulus payments from the federal government. As enhanced unemployment payments are ended consumer demand may drop back sharply in the mid and late summer.
"The second is that while sales numbers are improving, there continues to be immense damage to the bottom line. Much of retail is a volume business and even gentle declines in sales can cause severe erosion to profits.
"The third is the concern of a second wave and a further period of lockdown. In our view, the damage from this would be far worse than the first shutdown and would immediately reverse the embryonic recovery.
"Overall, there is a sense that things are going in the right direction, but retailers are keeping their fingers crossed that the pace and heading are maintained."