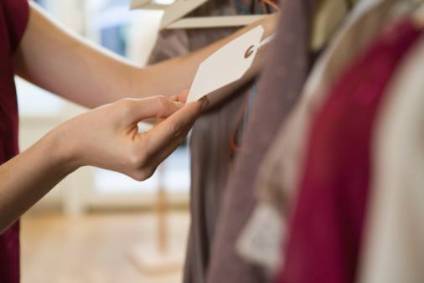 As stores begin to reopen across the US, a new study has found that the majority of consumers are ready to buy apparel in-store but the purchase experience will likely look much different than it did pre-coronavirus, as most are reluctant to try clothes on in dressing rooms.
While 54% of shoppers are happy to shop for apparel in physical stores, and 32% for footwear, 65% of women said they will not feel safe using fitting rooms, and 66% of female shoppers would not feel safe working with a sales associate.
The findings were revealed as part of First Insight's ongoing series of consumer sentiment studies entitled 'The Impact of Coronavirus on Consumer Purchase Decisions and Behaviors.'
By comparison, 54% of men said they would not feel safe trying on clothes in dressing rooms and 54% would not be comfortable working with a sales associate.
The study also found that, of the generations, millennials feel the safest returning to the shopping environment overall. 49% of millennials surveyed said they would not feel safe trying on clothes in dressing rooms, compared to 71% of Baby Boomers. Similarly, 48% of millennials would not feel safe working with a sales associate, versus 72% of Baby Boomers.
"While many shoppers seem ready to go back in-store, particularly to buy clothing, the experience is anything but business-as-usual," said Greg Petro, CEO of First Insight. "The coronavirus has moved the industry away from high-touch to low-touch. The 'new normal' for retailers will be to work with shoppers in a hands-free way to help them to find what they need while also giving them the space to feel comfortable, particularly with high-risk groups like Baby Boomers.
"Not feeling safe trying on clothing also begs many questions on how retailers and brands will need to adapt their return and exchange policy in the coming weeks."
Respondents felt that hand sanitiser and limiting the amount of people in-store (80% respectively) and wearing a facemask (79%) would make them feel safest when shopping in-store. Temperature checks (69%), self-checkout (69%), and farther distances between product racks or shelving (68%) ranked less important to consumers.
Meanwhile, worry about the coronavirus is subsiding slightly, with 76% of respondents being worried on 30 April, versus 82% on 20 April.
The percent of consumers cutting back on spending has also decreased, with 58% of respondents reporting cutbacks in spending on 30 April, compared to 62% earlier in the month.