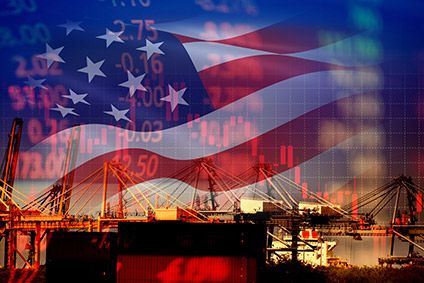 The US fashion industry is ramping up efforts to obtain billions of dollars in tariff relief and stimulus aid from Washington as it moves to provide an oxygen tank for battered retailers and save jobs.
Steve Lamar, president and CEO of the American Apparel & Footwear Association (AAFA), told just-style it and several other trade associations are in "constant talks" with authorities over their request for $8bn in tariff deferrals for this year.
The sector has already benefitted from $4bn of such postponements for March and April, after President Donald Trump earlier this month signed an executive order suspending duty payments on some imports for 90 days in a bid to help businesses struggling during the coronavirus pandemic.
However, the AAFA estimates only about 35% of apparel, 34% of footwear and 65% of travel goods benefit from the move, since items caught up in the ongoing US-China trade war are excluded – which includes most apparel and footwear imported from China.
Lamar revealed the sector will soon e-meet with officials to request another $4bn for May and June.
He says the industry pays $1.5bn to $2bn in monthly tariffs when it imports clothing, footwear or fabrics to stock American stores. The deferrals include regular clothing brought from Europe or Asia including Vietnam.
Just as crucially, textile and apparel businesses are asking for tariffs of up to 33% on personal protective equipment (PPE) to also be suspended.
Lamar says the tariff postponements will help retailers survive the pandemic, which pushed the US economy down nearly 5% in the first quarter and will depress growth for much of the year.
"This has been a devastating health crisis that has turned into an existential economic crisis," Lamar says. "Companies have had to close their doors and lay off [millions of] workers who can't pay their bills now. It has terrible consequences for the US and the world economy."
Hundreds of billions sought
In tandem with easing tariffs, the AAFA and others are seeking "several hundred billions" in stimulus aid (such as tax cuts or subsidised loans] to help retailers and brands survive the crisis.
Lamar expects Congress to discuss the issue in upcoming meetings to discuss stimulus help. So far, the US has granted $3trillion in aid for the pandemic, while Trump has called for another $1tn.
"It's clear that the retail sector has not been able to take as much advantage of the stimulus packages so far. This is why we have gone back to ask for stimulus funds to keep functioning. Companies have the infrastructure to rehire workers when the economy comes back but they need help."
Retailers and brands seem to be banking on the prospect of recovering sales as some states reopen for business. PVH shares, for instance, surged nearly 40% by mid-week while discounter Kohl's climbed 31%, riding a wave of strong increases in retail and apparel brand stocks.
New chapter in US-China trade?
Looming into the summer is the question of whether the US-China trade relationship will worsen to the point at which the Phase 1 deal to end the trade war is reviewed and possibly cancelled.
Trump and Chinese President Xi Jinping have traded barbs in recent weeks over China's handling and possible fault for triggering the pandemic, prompting speculation that the fragile accord could suffer.
"I don't know what will happen with the Phase 1 deal but as a result of the Covid-19 crisis there will be a lot of pressures on the US-China relationship. Whether those pressures manifest themselves on the trade deal or other ways it's hard to say," Lamar says.
He adds: "If the Chinese are still making purchases [the extent of which is now under dispute] and engaging in reforms and providing quality PPE items our country can use to protect citizens that may help the relationship go further."
Nevertheless, "there is a [new] chapter to be written about what the US-China partnership looks like as they emerge from the Covid-19 crisis," the AAFA boss concludes.