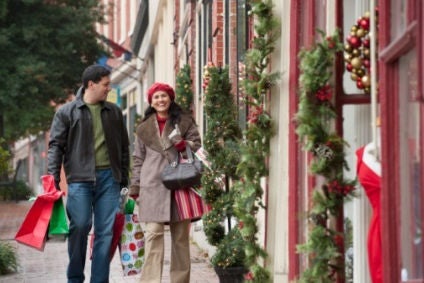 Holiday sales have seen a solid performance at many leading US apparel and footwear retailers, with Target, American Eagle Outfitters, JC Penney, Urban Outfitters and Kohl's among those who have benefited from increased consumer spending on the back of strong economic growth, low unemployment and rising home and equity prices.
The Children's Place
The Children's Place has lifted its fourth-quarter and full-year comparable retail sales and EPS guidance on the back of an 8.5% rise in comparable retail sales over the first nine weeks of the fourth quarter, which includes the holiday period. CEO Jane Elfers said the company achieved positive comparable retail sales in all channels and geographies, with its US business generating a rise of 8.4% and its Canadian business up 9.4%. As a result, the company now expects adjusted EPS to be in the range of $7.83 to $7.88, compared to $7.46 to $7.51. Excluding the benefit from the new accounting rules, full-year adjusted diluted EPS is projected to increase 27% to 28% versus $5.43 last year.
Nordstrom
Nordstrom has raised its fiscal 2017 expectations on the back of increases in both net sales and comparable sales for the nine weeks to 30 December. Net revenue was up 2.5% in the period, while comparable sales climbed 1.2% against the same period last year, reflecting an improvement in Nordstrom full-line and Nordstrom Rack stores and continued growth in e-commerce. Based on these results, Nordstrom now expects a 4.2% increase in net sales and a 0.5% hike in comparable sales. Nordstrom expects full-year earnings per share to be in a range of $2.90 to $2.95, compared with its prior outlook of $2.85 to $2.95.
Target Corp
US department store retailer Target has upped its fourth-quarter and full-year earnings guidance on stronger-than-expected holiday sales. The Minneapolis-based company said comparable sales grew 3.4% compared with the expected range of 0-2%, in the November/December period. For the fourth-quarter it now forecasts adjusted EPS of $1.30 to $1.40, compared to the prior range of $1.05 to $1.25, reflecting an expected 6-8 cent benefit from a lower structural tax rate in January resulting from recently-enacted federal tax reform legislation. Meanwhile, Target is currently planning for a low single-digit increase in its 2018 comparable sales and year-over-year stability in EPS generated by its core business, excluding the benefit of federal tax reform. "We are very pleased with our holiday season performance, which reflects the progress we've made against our strategy throughout the year," said CEO Brian Cornell.
Ascena Retail Group
Ascena Retail Group has reaffirmed it expects to post a second quarter loss per share after holiday sales results it described as "mixed." Total Ascena comparable sales in the period from 18 November to 1 January fell 3%, with the best performance in its Kids Fashion segment where comps at the Justice brand rose 4%. Plus Fashion comparable sales were down 2%; Premium Fashion slipped 3%; and Value Fashion fell 9%, within which was the biggest decline of 13% at dressbarn. The company expects second quarter earnings of a 7 to 12 cent loss per share, excluding the potential impact from recently enacted tax reform.
American Eagle Outfitters
American Eagle Outfitters has reiterated its fourth quarter EPS guidance in the range of $0.42 to $0.44 per diluted share on the back of a successful holiday season. CEO Jay Schottenstein said the company booked record sales and strong momentum across the American Eagle and Aerie brands, with fourth quarter comparable sales to date having increased 8%. "Customers responded well to our merchandise offerings, which fuelled positive traffic both online and in stores," Schottenstein added.
Urban Outfitters
Urban Outfitters said total company net sales for the two months ended 31 December 2017 increased 3.6% over the same period last year. Comparable retail segment net sales increased 2%, driven by strong, double-digit growth in the direct-to-consumer channel, partially offset by negative retail store sales. By brand, comparable retail segment net sales increased 5% at Free People, 2% at the Anthropologie Group and 1% at Urban Outfitters. Wholesale segment net sales increased 6.8%.
The Bon-Ton Stores
US department store retailer The Bon-Ton Stores said its comparable store sales decreased 2.9% for the nine-week holiday period ended 30 December 2017 – although this was an improvement on the 6.6% fall reported in the third quarter. Meanwhile, total sales for the period were $720.8m, a decline of 4.2% on last year's $752.1m. Children's and outwear were among the company's best performing categories. "We are actively engaged in discussions with our debt holders in an effort to strengthen our capital structure to support the business going forward," said CEO Bill Tracy. Bon-Ton has also appointed former Hudson's Bay CFO, Michael Culhane, as its new finance chief.
Citi Trends
US value fashion retailer Citi Trends said total sales in the first two months of the fourth quarter of 2017 increased 7.3% to US$165.1m, compared with $153.9m in the same period of 2016. Comparable store sales increased 5.5% in November and 4.5% in December. For the fourth quarter of fiscal 2017, the company expects diluted earnings per share to be in the range of $0.40 to $0.45 compared with $0.38 in the fourth quarter of fiscal 2016. Acting CEO Bruce Smith said all five of the company's major merchandise categories continued to contribute to the growth in comparable store sales, and noted the retailer is well positioned to complete its fifth consecutive quarter of comparable store sales increases.
Kohl's
Like other department store groups, Kohl's has more work to do in the year ahead, but its positive sale growth over the key holiday trading seasons signals it is firmly on the right track. The retailer reported its total and comparable sales for November and December 2017 combined increased 6.9% on the same period last year.
Macy's
Despite holiday sales growth at Macy's, the US retail giant plans to shutter 11 stores in early 2018 and narrowed its full-year sales guidance. The retailer said its comparable sales on an owned basis increased 1% in the months of November and December 2017 combined, compared to the same period last year, while it saw improved holiday sales across Macy's, Macy's Backstage, Bloomingdale's, Bloomingdale's The Outlet and Bluemercury.
JC Penney
The uptick in JC Penney's holiday sales performance should help ease fears the US retail giant is in a "terminal decline", as the company reaffirmed all components of its full-year guidance on the back of encouraging holiday sales. In its holiday sales performance update yesterday (4 January), JC Penney said comparable store sales for the combined nine-week period ending 30 December increased 3.4% over the same period last year.