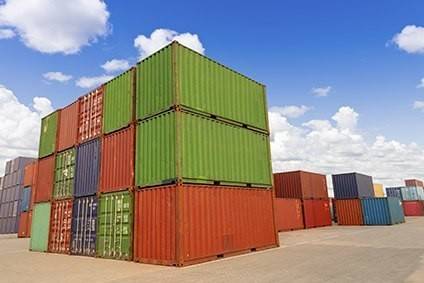 Imports at major US retail container ports have slowed down from their pre-holiday peak but remain at unusually high levels as retailers continue bringing in merchandise before tariffs increase in January, new figures suggest.
According to the monthly Global Port Tracker report released by the National Retail Federation and Hackett Associates, total imports at major US retail container ports in the first half of 2018 were 10.3m Twenty-Foot Equivalent Units (TEU), an increase of 5.1% over the first half of 2017. The total for 2018 is expected to reach 21.4m TEU, an increase of 4.4% over last year's record 20.5m TEU.
Ports covered by Global Port Tracker handled 1.87m TEU in September, the latest month for which after-the-fact numbers are available. That was down 1.3% from August but up 4.6% year-over-year. A TEU is one 20-foot-long cargo container or its equivalent.
October was estimated at 1.89m TEU, up 5.5% year-over-year, while November is forecast at 1.81m TEU, up 2.8% from last year.
Looking further ahead, December is forecast at 1.79m TEU, up 3.8%. Meanwhile, January 2019 is forecast at 1.81m TEU, up 2.8% over January 2018; February at 1.7m TEU, up 0.4% year-over-year, and March at 1.59m TEU, up 3.3%.
Imports set a monthly record of 1.9m TEU in July ahead of 10% tariffs on US$200bn in goods from China that took effect in September and are scheduled to rise to 25% in January. While not overall records, October, November and December's numbers are each the highest on record for those months. Before this year, the highest monthly number on record was 1.83m TEU set in August 2017.
"Imports have usually dropped off significantly by this time of year but we're still seeing numbers that could have set records in the past," says NRF vice president for supply chain and customs policy Jonathan Gold. "Part of this is driven by consumer demand in the strong economy but retailers also know that tariffs on the latest round of goods are set to more than double in just a few weeks. If there are shipments that can be moved up, it makes sense to do that before the price goes up."
Hackett Associates founder Ben Hackett added President Trump's trade war with China and the threat of even higher tariffs in 2019 have created a mini-boom in imports and businesses have rushed to bring goods into the country ahead of the tariffs."
"We are clearly in a politically motivated trade environment," he said.
While cargo numbers do not correlate directly with sales, the imports mirror this year's strong retail sales. NRF forecast last week that 2018 holiday season retail sales – excluding automobiles, restaurants and gasoline stations – will increase between 4.3%-4.8% over last year. Retail sales for all of 2018 are forecast to be up by at least 4.5%over 2017.
Click here to see how apparel imports into the US fared during the month of September.