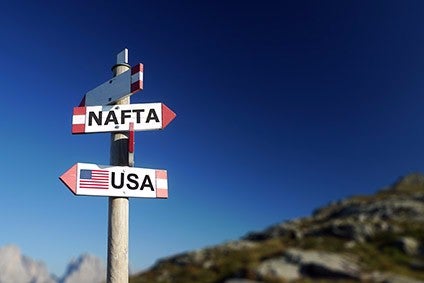 The US has opened a centre to coordinate the implementation of the US-Mexico-Canada Agreement (USMCA), which comes into force on 1 July.
US Customs and Border Protection (CBP) opened the centre to serve as a central communication hub for CBP and the private sector community, including traders, brokers, freight forwarders and producers, ensuring a smooth and efficient transition from the North American Free Trade Agreement (NAFTA) to USMCA.
It will be staffed with CBP experts from operational, legal, and audit disciplines, as well as in collaboration with Canadian and Mexican customs authorities.
"The Center is integral to successful implementation of USMCA, as it will focus on outreach, training, and developing new regulations and procedures, while providing consistency and transparency to the trade community," said Brenda Smith, executive assistant commissioner of CBP's Office of Trade. "This all comes down to making sure that American consumers get their goods safely, securely and predictably, while protecting the economic security of the United States."
The USMCA makes a number of updates and modifications to the 25-year-old NAFTA and will offer qualifying textiles and apparel, travel goods and footwear originating from the USMCA region duty-free access to the US and Canadian markets.
It also includes new provisions on textiles that incentivise greater North American production, strengthen customs enforcement, and facilitate broader consultation and cooperation among the three parties.
Last week, President Donald Trump issued an executive order establishing the Forced Labor Enforcement Task Force required by the USMCA.
The mandate of the task force is to lead and improve US agency coordination efforts to enforce both the USMCA's prohibition on forced labour imports and the existing prohibition contained in US law, according to International trade law firm Sandler, Travis & Rosenberg (ST&R).
A letter from House Ways and Means Committee members to the CBP and US Department of Homeland Security on 11 May expresses "concern" over the missed deadline of 28 April for establishing the task force.
It reads: "Recent press reporting, investigations completed by civil society organisations, and the US Department of Labor in its regular reports on child and forced labour continue to provide evidence of the severity and pervasiveness of forced labour in the production of goods traded to the United States, including in the technology, apparel, and industrial sectors in China and the agricultural sector in Mexico."