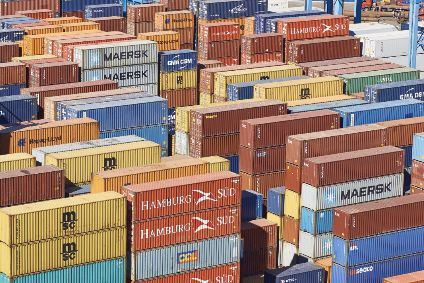 The US trade deficit in goods and services fell another 8.7% in November from a month earlier, as exports increased but imports dropped – with China seeing its gap narrow slightly.
The deficit amounted to US$43.1bn for the month, reflecting a 0.7% increase in exports to $208.6bn from $52.5bn in September, according to trade statistics released by the US Census Bureau. US imports were down 0.1% to $251.7bn.
Year-to-date, the goods and services deficit dropped 0.7% on last year. Exports have dropped less than 0.1% over the same period a year earlier, while imports are also down 0.1%. Meanwhile, the deficit in goods trade declined 5.8% in November to $63.9bn, while imports of goods dropped 1.4% to $201.1bn.
The largest deficits were recorded with China ($25.6bn), the European Union ($13.5bn), and Mexico ($8.5bn). A deficit of $1.7bn was recorded with Canada.
Surpluses for the month of November were recorded with South and Central America ($4.9bn), Hong Kong ($1.8bn), Brazil ($1.7bn), UK ($1.3bn), Singapore ($0.6bn) and Saudi Arabia ($0.1bn).
The US raised the stakes in the tit-for-tat trade war between the US and China in early August last year, with plans to impose an additional 10% punitive tariff on US$300bn of imports from China from 1 September – including, for the first time, almost all textiles and apparel. On 23 August it decided the scheduled punitive tariff rate would rise from 10% to 15% on top of the most favoured nation (MFN) rate applied by the WTO on US imports from China – which averaged 14.4% for knitted apparel and 10.4% for woven apparel in 2018.
However, last month the US said it had reached a 'Phase One' trade deal with China, and that the 15% punitive tariffs would be reduced to 7.5% around 30 days after the signing of the agreement – although no date has yet been set. Although less impactful for the clothing sector, punitive tariffs on about $250bn of Chinese imports will also continue.