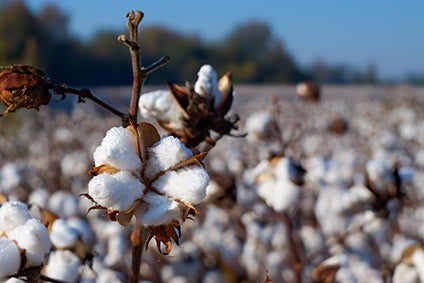 The use of forced labour in Uzbekistan's cotton fields has significantly reduced but continues to be a problem – although recent discussions with the country's government on tackling the issue are said to have been encouraging.
The Cotton Campaign, a global coalition of human rights, labour, investor and business organisations, hosted the first-ever delegation of Uzbek government officials at its annual strategy meeting on 4 February in Washington.
Building on discussions that took place in May last year, the two sides agreed on broad areas of further progress that are necessary to achieve lasting reform. The Cotton Campaign and the government of Uzbekistan also agreed to intensify direct dialogue in 2019 in order to encourage and accelerate the progress of reform.
"We are encouraged by the government of Uzbekistan's commitment to end decades of forced labour and we are focused now on the many dimensions of this historic task which remain to be completed," said Cotton Campaign co-founder Bennett Freeman. "Our discussions were substantive, constructive, and positive, highlighting both recent areas of significant progress and the major challenges still ahead."
In May, the Cotton Campaign outlined a roadmap of reforms to eliminate systemic forced labour in last year's cotton harvest.
However, despite significant progress in several areas, including allowing access for human rights activists to monitor the harvest, state-organised forced labour remained systemic, the labour rights groups claim. Preliminary findings published in December based on hundreds of interviews and documents gathered by the Uzbek-German Forum for Human Rights (UGF), a Cotton Campaign partner, show people were forced to the fields on a large scale to fulfil centrally-developed cotton quotas in 2018.
The 2018 cotton harvest concluded in the first week of December during which a team of independent monitors found:
Some reports of punishing local officials for orchestrating forced labour. However, for the 2018 harvest, the central government continued its system of imposing cotton production quotas on regional and local officials. As a result, more than 100 such officials were punished for "deficiencies in organising the cotton harvest," a term used for failing to fulfil cotton quotas.
The government increased wages paid to pickers, resulting in more voluntary pickers, especially early in the season when cotton is more plentiful and earning potential is high. But the number of voluntary pickers dropped as available cotton decreased and the weather worsened, which induced officials to resort to forced labour to meet their quotas and avoid punishment.
Numerous pickers worked voluntarily, but many pickers preferred to be hired as replacement pickers by those forced to pick or pay so they could earn replacement fees in addition to wages for cotton picked, demonstrating that national picking wages set by the government are still too low.
Health and education employees were not mobilised en masse, though some were forced to work at the end of the harvest. Nonetheless, most major government enterprises and agencies, including factories, grain mills, utility companies, banks, law enforcement, and government services, required their employees to pick cotton or pay for replacement pickers from the beginning of the harvest. Thousands of these employees were sent to supply pickers to low population regions where they lived in field camps, public buildings, or train cars.
At the time, Freeman said there had been "encouraging areas of progress" but it was "premature to declare success in dismantling a system of production relying on massive forced labour that has been in place for decades."
"It will take several more years to end systemic forced labour and to implement critical structural reforms, such as ending the quota system, establishing incentives for employing only voluntary labour and enforcing accountability for officials who use forced labour. We look to the Uzbek government and its international partners to sustain and accelerate the hard work that will be necessary to achieve historic reform," he added.
UGF Director Umida Niyazova commented: "This past year, we monitored the harvest throughout the 70-day harvest period. There were significant reductions in the use of forced labour among some vulnerable groups, particularly university students and workers in the health and education sectors. The widespread use of involuntary workers mobilised from state enterprises and other sectors remained apparent, however, showing that systemic drivers of forced labour remain in place."
A key point of discussion during the strategy meetings was the Uzbek Cotton Pledge, a commitment from 310 apparel brands to not "knowingly source" cotton from Uzbekistan until it is no longer produced with government-organised forced labour. The pledge will remain in place with the support of the private sector signatories until the Campaign sees that systemic forced labour has verifiably ended, structural reforms are sufficiently advanced to prevent it from returning, and civil society is enabled to monitor and report. Pledge signatories and the Campaign will look for additional, demonstrable progress in each of these three areas in the autumn 2019 harvest before further evaluating the pledge.
Steve Lamar, executive vice president of the American Apparel & Footwear Association (AAFA), said: "We hope that the Uzbek government will see the pledge as an incentive to continue to build toward a more prosperous future for Uzbekistan's farmers, workers and economy. We welcome the dialogue with the government to continue making significant progress toward ending systemic forced labour and will continue to work with them and all stakeholders, including the ILO, to accomplish this goal."