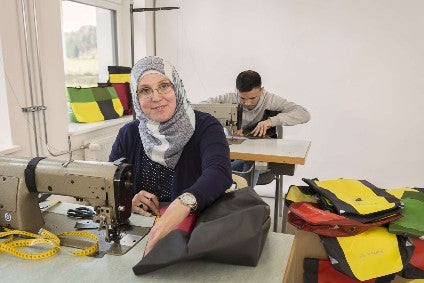 German outdoor clothing company Vaude says it is currently producing about 900kg less residual waste per year thanks to the establishment of a new upcycling workshop.
The firm has launched the project with support from the German Federal Environmental Foundation (DBU) in a move towards achieving a more circular economy and to offer work to refugees.
Operating under the motto "from residue to raw material", the workshop sees excess materials – including those from the firm's own production site in southern Germany – used to sew new products.
While large pieces of material are used to make shopper bags, smaller scraps are collected, sorted and stored for later use.
"Unfortunately, waste cannot be avoided completely," says Lisa Fiedler, Vaude corporate development. "So far, we often dispose of valuable materials, even though they are much too [good] for that. That's a waste and that's why we want to change that."
Fielder adds that thanks to the project – which currently sees two refugees working at the workshop – Vaude is currently producing about 900kg less residual waste per year.
The project dates back to 2016 when Vaude offered sewing workshops for refugees to give them an insight into the daily work routine. Here participants used leftover materials from the firm's own production site to produce shopper bags, with proceeds donated to the Tettnang Asylum Network, which supported the workshops.
Following the success of the scheme, and with a EUR70,000 (US$85,547) funding boost from the DBU, the upcycling workshop was developed.
In addition to the initial investments for the scheme, the funding will also be used to create an upcycling community that Vaude aims to set up in collaboration with partner companies and would serve as a material exchange and brainstorming initiative for new upcycling products and cooperations.
Under the scheme, and as part of a pilot project, excess materials will be used to create souvenirs for the German Zeppelin shipping company.
"With the development of an upcycling production process, coupled with the development of a new business model, Vaude opens up new opportunities for value creation while at the same time saving resources and avoiding waste," says Dr Maximilian Hempel of the German Federal Environmental Foundation. "The integration with the already integrated companies and institutions will also create a platform for upcycling productions."
The shopper bags created in the workshop will be available for sale from mid-March in Vaude stores, outlets and the firm's factory outlet in Tettnang-Obereisenbach.