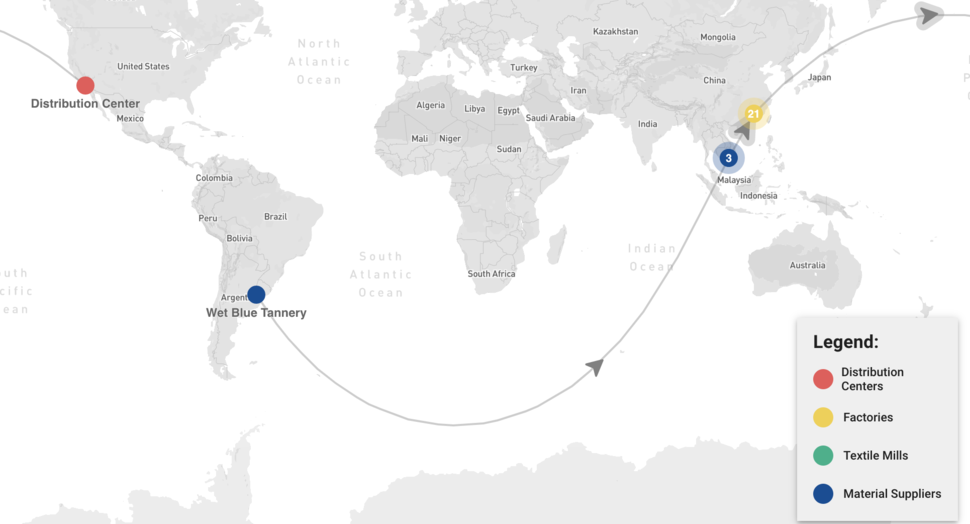 US global apparel and footwear company, VF Corp, says transparency is at the heart of its sustainability and responsibility efforts. In 2017, it introduced the VF Traceability Program to identify its upstream supply chain and track all of the points of impact in creating its products. As of December 2021, the company had traced over 100 products, and produced traceability maps for many of its flagship products, including the Timberland Waterproof Boot, the Jansport Big Student Backpack and The North Face ThermoBall Eco Hoodie.
VF Corp explains: "Complete traceability goes beyond the factories that produce our goods. It starts at a farm, ranch or a facility where raw materials used in our products are grown, extracted and sourced.
"Included in this process are high-impact goods such as cotton, wool, leather, rubber and polyester. The purpose is to understand the origins of these raw materials that enables us to identify how these materials are processed and the impacts they have on the environment and the people who live in communities supporting these processes. Through supplier outreach, surveys and continued research, we are gaining a better understanding of our entire supply chain."
With this data, VF Corp has created Traceability Maps to understand where its suppliers are operating, identify areas of concern and address them. For example, suppliers might be in locations at high risk of deforestation or if there could be an opportunity for a supplier to recycle water in a more sustainable way. These maps also incorporate data on human rights, furthering the group's commitment to people.
"The maps allow us to then take a critical look at our processes and adjust as needed," VF Corp adds. "This particular act of tracing identifies problems we may have not been able to see at the surface, while uncovering issues and allowing us to address them. With this data, we've implemented policies around the ethical sourcing of supplies. For example, in 2019, we discovered that our leather sourcing in Brazil was not up to our standards, so we discontinued working with those suppliers for international distribution until we have confidence and assurance that the sourcing of these materials does not cause environmental harm. Currently, we are tracing our polyester to ensure that both our recycled and virgin polyester originate are from places with fair labour laws, where there is no forced labour, child labour or unpaid wages."
By 2030, the group's goal is to create a purpose-led supply chain, only partner with producers who meet its standards, and ensure 100% of its materials are recycled, regenerative or responsibly sourced.
VF Corp explains: "Today's milestone of 100 traceability maps, which completes our three-year goal, is just the beginning as we continue to drive the industry and ourselves to do even more."